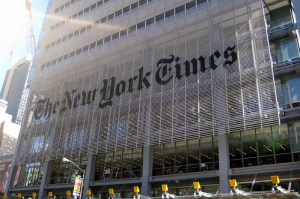 Journalists giving quote approval to their interview subjects has been getting some attention in the news lately, especially after it came out that Vanity Fair contributor Michael Lewis was given unprecedented access to the White House for a profile of President Obama on the condition that the White House would have quote approval. Now Margaret Sullivan, the new public editor of The New York Times, is urging the newspaper to stop what she deems an "extreme version" of quote approval.
RELATED: Romney Campaign Fingerprints All Over The Case Of The Missing New York Times Quotes
In a piece written yesterday titled "The Times Needs a Policy on Quotation Approval, and Soon," Sullivan highlights the fact that the Times has "no explicit policy" on quote approval. Times reporter Jeremy Peters wrote a much-talked-about article two months ago that highlighted the common practice between journalists and their subjects.
Sullivan writes that the paper's managing editor for standards, Philip Corbett, will have "guidelines and best practices" for Times staff out within the next week or so. Sullivan argues why it is important for the paper to have an explicit policy on quote approval.
The idea that a reporter must send a written version of a quotation to a source or his press representation for approval or tweaking is the extreme version of the "quote approval" practice and it ought to be banned in a written rule.

In fact, I strongly urge all news organizations to forbid this practice, and, if they do, they will surely find strength in numbers. News sources – particularly those in the political sphere – do want to get their message out. They will not stop speaking to The Times or The Wall Street Journal or The Washington Post because of such a policy.
She adds that it could be "helpful" for reporters to be able to tell sources that their hands are tied by their news organization's official policy.
You can read Sullivan's full post here.
h/t POLITICO
Have a tip we should know? [email protected]
Josh Feldman - Senior Editor