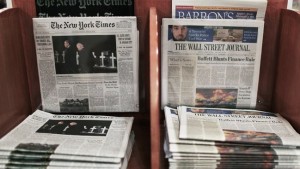 Two major U.S. newspapers have alleged that they have been targeted by Chinese hackers. The New York TImes and The Wall Street Journal have both reported that hackers from China hacked their websites in the midst of both papers doing extensive reporting on China. The Times claimed in its report that the hackers obtained passwords for its reporters, with both papers saying that such Chinese spying has become a "widespread phenomenon."
Both papers quickly took steps to beef up security, but the question remains of how the hacks were carried out in the first place. The New York Times details how hackers broke into its system to observe its reporting on the relatives of Chinese prime minister Wen Jiabao.
Security experts hired by The Times to detect and block the computer attacks gathered digital evidence that Chinese hackers, using methods that some consultants have associated with the Chinese military in the past, breached The Times's network…

The hackers tried to cloak the source of the attacks on The Times by first penetrating computers at United States universities and routing the attacks through them, said computer security experts at Mandiant, the company hired by The Times. This matches the subterfuge used in many other attacks that Mandiant has tracked to China.
The paper found no evidence that the hackers used any of the password information to access anything other than the Times' reporting on China. The Times concludes in its report that the hacking is part of a "far-reaching spying campaign" aiming to "control China's public image, domestically and abroad."
The Wall Street Journal followed up on the Times report with an admission of its own. The Journal explains how its system was cracked by hackers, although in a little less detail than the Times did.
One of the ways the hackers penetrated the paper's computer system was through its Beijing bureau, people familiar with The Wall Street Journal incident said.

The statement didn't address how the hacking occurred. The paper has faced hacking threats from China on and off during the past few years.
Both papers have assured readers that no customer information was compromised as a result of the hacking.
[Image via]
—–
Follow Josh Feldman on Twitter: @feldmaniac
Have a tip we should know? tips@mediaite.com
Josh Feldman - Senior Editor