New Yorker Writer Resigns After Being Caught Fabricating Bob Dylan Quotes For New Book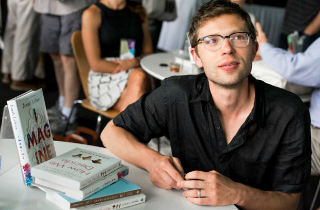 New Yorker staff writer Jonah Lehrer has officially resigned from his position after admitting to fabricating several quotes attributed to Bob Dylan in his latest non-fiction book, Imagine: How Creativity Works.
An article posted to Tablet Monday morning by Reason contributing editor Michael Moynihan exposed Lehrer's quote fabrications and subsequent admission of guilt. In response, Lehrer released the following statement:
Three weeks ago, I received an email from journalist Michael Moynihan asking about Bob Dylan quotes in my book Imagine. The quotes in question either did not exist, were unintentional misquotations, or represented improper combinations of previously existing quotes. But I told Mr. Moynihan that they were from archival interview footage provided to me by Dylan's representatives. This was a lie spoken in a moment of panic. When Mr. Moynihan followed up, I continued to lie, and say things I should not have said.

The lies are over now. I understand the gravity of my position. I want to apologize to everyone I have let down, especially my editors and readers. I also owe a sincere apology to Mr. Moynihan. I will do my best to correct the record and ensure that my misquotations and mistakes are fixed. I have resigned my position as staff writer at The New Yorker.
Moynihan had read Lehrer's book and attempted to look for the sources of several Dylan quotations offered by Lehrer. When he came up empty, he contacted Lehrer directly and asked for some help. In what Lehrer now describes as "a moment of panic," he claimed to have been given access to extra-rare interview footage by Dylan's manager Jeff Rosen. "Over the next three weeks, Lehrer stonewalled, misled and, eventually, outright lied to me," Moynihan wrote. "Yesterday, Lehrer finally confessed that he has never met or corresponded with Jeff Rosen, Dylan's manager."
The New Yorker editor David Remnick said in a statement that "this is a terrifically sad situation, but, in the end, what is most important is the integrity of what we publish and what we stand for." A spokeswoman for the publisher of Lehrer's book, Houghton Mifflin Harcourt, said the company is "exploring all options" and will halt shipment of the book's physical copies and remove the e-book from market.
(h/t NYT)
— —
>> Follow Andrew Kirell (@AndrewKirell) on Twitter
Have a tip we should know? tips@mediaite.com