Newly-Released Call Of Duty: Black Ops 2 Game Features A David Petraeus Cameo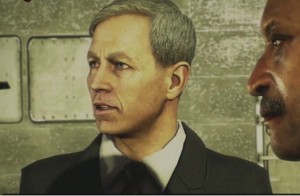 As if this week hasn't been strange enough in the life of CIA director David Petraeus, the former general is also getting some play in the world of video games. Call of Duty: Black Ops 2 was released today, and while many people are interested in the game because of something to do with shooting up bad guys, one little detail about the game has come to light: Petraeus himself is featured in it. Not the actual Petraeus, someone else voiced the character. But this character has both the likeness and the name of the currently-plagued CIA director, though in the game he's referenced as the Secretary of Defense.
Chances of that happening in real life: 0, as of this week.
According to the Wall Street Journal, there is a character in the game with Petraeus' likeness referred to by another character as "Secretary Petraeus." Activision Blizzard, the makers of the CoD franchise, released this statement clarifying exactly why they have Petraeus in the game.
General Petraeus was not paid, was not involved in the creation of the game, and has not been asked to endorse the game. Call of Duty: Black Ops II and its fictional storylines are aimed at providing fun and enjoyment. It is clear to game players that his character and others that are based on real-life figures are fantasy.

Including Gen. Petraeus and other real-life figures was strictly a creative decision made many months ago when the storyline was drafted. We are not commenting further on the latest news or Gen. Petraeus. His service to his country and career accomplishments are a matter of public record.
Also, those e-mails. Pretty much everything in his life is a matter of public record now.
[Image via]
—–
Follow Josh Feldman on Twitter: @feldmaniac
Have a tip we should know? tips@mediaite.com
Josh Feldman - Senior Editor