In today's cutthroat media environment, stories break fast and spoil faster. It doesn't take long to go from big news to scraps of news to contrary opinions that seem cooked up solely for shock value. News Decay charts the strange and rapid declines wrought by the 24-hour news cycle.
At about 5:30 yesterday, Perez Hilton reported that socialite and self-described "Armenian Princess" Kim Kardashian and her boyfriend of two years, NFL running back Reggie Bush, had broken up. Within an hour, the news was all over the Internet. In less than a day, it was thoroughly exhausted: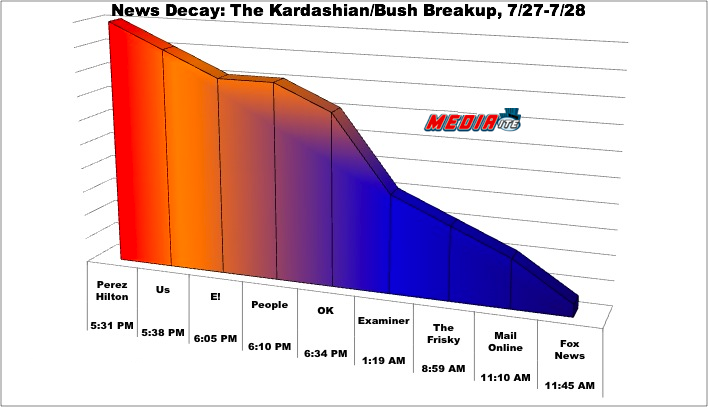 5:31 PM: Perez Hilton breaks the story, with help from "a source close to the pair."
5:38 PM: Us Weekly follows up, also claiming an exclusive. This time, they check with Kardashian's publicist, who confirms.
6:05-6:10 PM: E! and People both get in on the action. They also talk to "a source." E! breaks the news that they are both sad.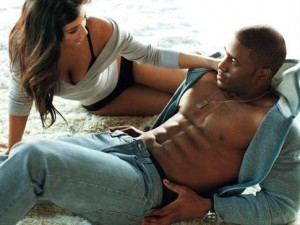 6:34 PM: OK! posts a story too. Shamefully, they are more than an hour late. "'They have different schedules, they never got to see each other,' a source close to Kim tells OK! exclusively." That source must get around.
7/28, 1:19 AM: The Examiner runs a story titled "The 'Bush and the Tush' calls it quits."
8:59 AM: The Frisky starts your day with breakup news. But since they are a blog, they provide edgy commentary. "What a cop-out excuse! If two people really want to be together, then they'll find a way to make it work."
11:10 AM: The Daily Mail runs an article. "Kim is famous for her curvaceous body," it adds, helpfully illustrating with a photo.
11:45 AM: Fox News runs a piece titled "After the Split: Will Kim Kardashian Still Auction Off Reggie Bush's Clothes?"
UPDATE: 4:11 PM, From The Hollywood Gossip: "Should Kim Kardashian Date Chris Brown?"
Have a tip we should know? tips@mediaite.com