Newspaper Publishes Report Of Successful Operation (Unaware That The Patient Died A Week Prior)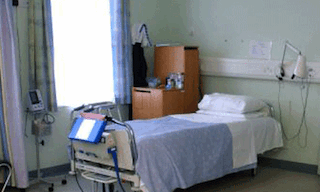 Here's a sad and strange story. A few days ago, the Wisconsin State Journal was forced to publish an correction for a story about a new device used at UW Hospital to combat brain aneurysms. In the original story, the patient was quoted as saying she was "amazed at the opportunity" and was "feeling fantastic" now that she was recovering. Unfortunately, it turned out that she had died a full week before the article was published.
So, how could this have happened? The State Journal explains in their correction that they had contacted the 63-year-old woman (whose name we've decided not to write here because, really, does her family want this incident to overwhelm her online memory?) shortly before her death when she had been feeling fine. A few days later, they had asked the hospital's clinical coordinator follow-up questions and the coordinator had answered them without mentioning the patient was already dead. This was on a Wednesday. The article was published that Friday, six days after the patient's death from a brain hemorrhage seemingly unrelated to the treatment.
From the State Journal:
"Niemann and Dr. Beverly Aagard Kienitz, the other surgeon who treated Kiconas, said they regret not telling the paper or the hospital's media relations department about Kiconas' death. They said they didn't realize at the time that they should.

'The failure to disclose this information was wrong and we regret that it occurred,' UW Hospital spokeswoman Lisa Brunette said."
This admission, of course, probably means little to the patient's family who had to read the woman's quotes nearly a week after she had already passed. The State Journal writes that the reporter involved has apologized to the woman's daughter and she accepted.
The original article now features this correction at the top, just a couple lines above the woman's quote:
[Editor's note: (NAME EXCISED), a patient featured in the article below, died on July 16. The article was published in print and online before the State Journal learned of her death. The State Journal has written a follow up story.]
(h/t Poynter)
Have a tip we should know? tips@mediaite.com