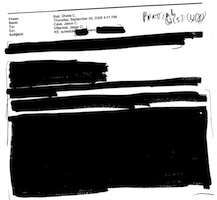 When President Obama took office, he earned widespread praise for loosening up Bush-era restrictions on the Freedom of Information Act (FOIA), which outlines the process by which citizens can request previously unreleased information from federal agencies.
The FOIA has been rightly hailed as a valuable journalistic tool, though according to the Heritage Foundation, it's more widely used by lawyers and corporations.
When one Seattle business weekly took the FOIA for a spin in an investigation of the financial crisis, it uncovered … pages and pages of black ink.
The Puget Sound Business Journal was trying to get ahold of internal emails from the Office of Thrift Supervision, which it hoped would shed light on its investigation of the federal government's seizing of Washington Mutual. According to a previous investigation by the Business Journal, which was picked up by Portfolio (R.I.P.), "WaMu had sufficient liquidity and capital to meet regulatory standards and survive," so the government's role in its closure was, to say the least, ambiguous.
After months of waiting — well over the 20 day deadline by which federal agencies are required by law to comply with FOIA requests — the Business Journal's Kirsten Grind got pages of almost entirely blacked-out documents, along with a note that "after careful review, I have determined that your request, as it pertains to the above-referenced documents, is denied in full."
As Grind notes, the rebuff came, ironically, just one day after Obama launched a "comprehensive open government plan:"
The White House press release said: "Today's announcement will help to make government more open, transparent, and accountable to bridge the gap between the American people and their government."
The odds that Obama personally had a hand in this denial are slim, but it's further confirmation that the election of a new president is hardly likely to launch secretive agencies into transparency overnight.
Related: CIA Realizes It's Been Using Black Highlighters All These Years (The Onion)
(via the Puget Sound Business Journal)
Have a tip we should know? tips@mediaite.com