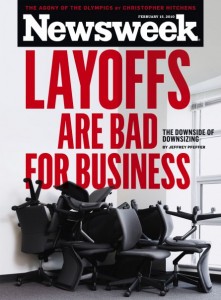 In his once relevant Media Ink column, Keith Kelly provides a rather dismal report on the overall health of Newsweek column in today's NY Post. And while its true that the weekly news magazine suffered some pretty significant losses over the last year, Kelly's report ignores both important context and, more importantly, the quarterly trend of profits and losses. Sure, some have predicted their imminent demise, however a complete look at how the last year has gone for Newsweek reveals that rumors of their death are greatly exaggerated.
Kelly writes:
ATTEMPTS by Newsweek CEO Tom Ascheim and Editor-in-Chief Jon Meacham to reshape the magazine into a lower-circulation weekly with a more Economist-like feel do not seem to be paying off.

Tucked in the fourth-quarter earnings report from parent Washington Post Company were numbers that suggest the magazine lost $28.1 million in 2009, the first year of the process.
…
Since Newsweek lowered its circulation — from 2.6 million to 1.5 million — it was forced to make corresponding cuts in its ad rates. The company hopes that lower production, distribution and employee costs will eventually enable it to return to profitability.
It is true that Newsweek lost roughly $28 Million in the last year. But to fully appreciate that number, one need remember that roughly two-thirds of that amount came in the the first quarter of last year, and included a write-down of over $6MM in severance packages. Further, Q2 of '09 saw roughly $5MM in losses, and Q3 roughly $4MM. Q4? only $400k in losses. Correction! Newsweek actually turned a small yet significant profit of $400k in Q4 of 2009. However, to simply report annual losses, ignoring the revenue trend of Newsweek's core business – particularly in the midst an historic ad recession and repositioning in the market place, is not telling the entire story.
Frank De Maria, a spokesman for Newsweek, repeated this idea, telling Mediaite via email that "Q4 '09 was actually very good for Newsweek in ad revenue, lots of momentum, new advertisers, good prices, best quarter by far of the year (new advertisers like Porsche, which shows we are attracting more luxury advertisers) – that momentum continues with advertisers like Mercedes just coming on, more Apple, Chevron, etc."
De Maria continued, "Digital had a galloping Q4 – 100 million page views in September (highest ever) – 75MM avg for rest of the quarter, compared favorably to election time 08 (highest time in our history due to crazy national attention on election) – ad revenue also peaked in Q4 with our best quarter ever in ad revenue in our history."
Measured purely by buzz, a fair and objective analysis of Newsweek's redesign and market repositioning of its title has been a big success. And judging by the trending of its quarterly revenue numbers over the last year, it definitely appears to be heading in the right direction. But it also needs to be mentioned that 2010 will be a critical year for the news weekly – and the story of smaller quarterly losses will no longer be enough to quell its critics.
Have a tip we should know? tips@mediaite.com
Colby Hall - Founding Editor