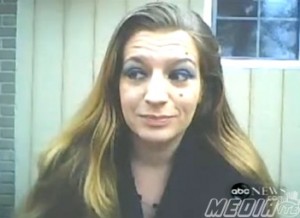 Angie Jackson, known online as Angie the Anti-theist, pushed the abortion debate–and Twitter–to a new level of transparency when she live-tweeted her abortion earlier this week.
Citing a desire to "demystify abortions for other women," the 27-year-old created a YouTube video right after she took the RU-486 pill. That's right. She started her abortion on YouTube and continued live-tweeting as the pill did its business:
"Cramps are getting a bit more persistant."

"Definitely bleeding now."
The live-cast sparked interesting dialogue about abortion and related issues on her personal Twitter account and more mainstream media, like ABC. As anticipated, the anti-abortion community lashed out, calling her a "whore," sending death threats and attacking the character of her boyfriend and son.
Jackson also received a slew of support from her online following, which doubled after she decided to Tweet her abortion. "RT @aprilliamay @antitheistangie Don't let those antis shame/intimidate you. You are a powerful voice speaking for many women. Stay strong!"
Regardless of your stance on the issue, Jackson's move creates an interesting debate about whether or not such controversial, personal events should be communicated via such public, transient mediums. A few months ago, Penelope Trunk, entrepreneur and founder of Brazen Careerist, tweeted her miscarriage:
"I'm in a board meeting. Having a miscarriage. Thank goodness, because there's a fucked-up 3-week hoop-jump to have an abortion in Wisconsin."
The blogosphere blasted her decision, calling it disgusting and inappropriate, but Trunk argued that every day, thousands of miscarriages occur at work; "that we don't acknowledge it," she wrote, "is absurd."
But is it? And perhaps more importantly, is Twitter the right time and place for this discussion? You can check out the video below to decide for yourself. And as Angie the Anti-theist would say "I hope everyone in YouTube had a great and Godless day."
Have a tip we should know? tips@mediaite.com