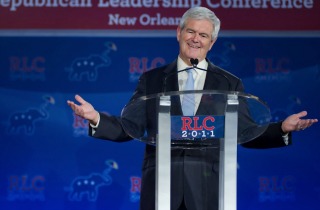 Former House Speaker Newt Gingrich has tried to be a president, a CNN host, a public intellectual, and a man who has been married only once. He has mostly failed at these things, and so, like many other lost souls, he joins a law firm.
The Wall Street Journal reports that Gingrich will join Dentons, the largest multinational law firm in the world, not to practice law — he's not a lawyer — but to advise "the firm's clients on navigating regulatory issues in the U.S. and abroad."
So technically, he's kind of a lobbyist. Though if history tells us anything, he'll rabidly deny that he's any kind of lobbyist now, just a regular dude with a love of political science, a vast background in the field, and the desire to be paid a lot of money.
Oh look, there he goes:
"Having been actively studying politics and government since 1958, I can look at longer time horizons and suggest to people: How do you avoid the problem before it becomes the big problem," Mr. Gingrich said. For instance, Mr. Gingrich said, a company like Google may have been able to avoid its current regulatory problems in Europe if they'd "adopted a strategy of more proactively dancing with E.U. bureaucracy" several years ago.
In a press release, Elliott Portnoy, Global Chief Executive Officer of Dentons, said he was "thrilled" that Gingrich came on board, though made pains to emphasize that he wasn't a lobbyist "and Dentons has no plans to use him as a lobbyist." But knowing how porous the barrier is between "lobbyist" and "person you're paying for regulatory advice who has lots of experience and also many powerful friends", we remain skeptical.
Fun fact: earlier this year, Dentons merged with Chinese law firm Dacheng to seize the title of "largest law firm in the world," so technically, no matter whether he's fake-lobbying or not, Newt Gingrich works for the Chinese. Yeah, 2016 ain't happening for him. Or any other presidency, for that matter.
[Image via Christopher Halloran / Shutterstock.com]
— —
>> Follow Tina Nguyen (@Tina_Nguyen) on Twitter
Have a tip we should know? tips@mediaite.com