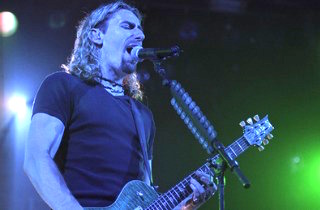 A new song by the group Nickelback is getting some attention today; not necessarily because of the song––"Edge of a Revolution"––itself, but because it was inspired by the events of Ferguson. A Riverfront Times blog post today highlights this song and comments by the band as to why they devoted a song to the shooting death of Michael Brown.
In an interview earlier this month, frontman Chad Kroeger explained that North America could very well be on the, ahem, "edge of a revolution." And he believes that Ferguson may be a stepping stone to that kind of revolution:
You turn on CNN and it's like, "Wow!" We'd have it on for 15 minutes and we'd have to shut it off because it was so depressing. The state of affairs in the world these days is so dismal. And I think that's where the song definitely came from. While we were working, the [shooting of Michael Brown in Ferguson, Missouri] was a major story and there was rioting like crazy. So it definitely felt like the seeds of revolution were being planted.
Now, as for the song itself, it's obviously full of calls for revolution, with lyrics like, "In God we trust or the CIA/Standing on the edge of a revolution" and "What do we want? We want the change/And how're we gonna get there? Revolution."
You can watch the music video here:
[h/t Reason]
[image via TDC Photography/Shutterstock]
— —
Follow Josh Feldman on Twitter: @feldmaniac
Have a tip we should know? tips@mediaite.com
Josh Feldman - Senior Editor