NJ Pols Want to Rename the Sea of Japan Despite Being Nowhere Near the Sea of Japan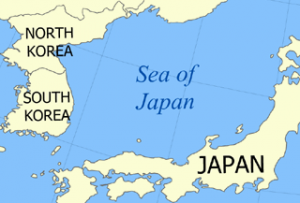 New Jersey and Japan are nowhere near each other on the globe. They reside on different continents, separated by everything past the Eastern Seaboard and a vast ocean. Yet somehow, this is not stopping a number of Democratic assemblymen in New Jersey from pushing legislation that would officially rename the Sea of Japan to the East Sea.
Now, you may ask why this is happening in New Jersey, of all places. Furthermore, you may ask exactly what's the point of doing so in the first place, especially on the state level. Well, according to The Star-Ledger, these members of the state legislature represent "a large and politically active Korean-American community," and the whole issue of what the sea is called has been a source of much quarreling between South Korea and Japan. Japan wants to stick with Sea of Japan, while South Korea has been pushing for "the East Sea" for some time now.
And now New Jersey has stepped into the fray.
But the truly strange part is that somehow, Japan got wind of this, and the Chief Cabinet Secretary of Japan actually slammed New Jersey for wading into this sea of debate.
"It's extremely regrettable… We'll take various steps in response through diplomatic channels while seeking a correct understanding of the name of the Sea of Japan in the international community."
So apparently, New Jersey politicians getting New Jerseyans angry wasn't enough, now they've gone and pissed off another country.
[h/t HotAir]
[photo via NormanEinstein]
— —
Follow Josh Feldman on Twitter: @feldmaniac
Have a tip we should know? tips@mediaite.com
Josh Feldman - Senior Editor