NJ State Sen Apologizes After Saying Chris Christie 'Prayed' For Hurricane Sandy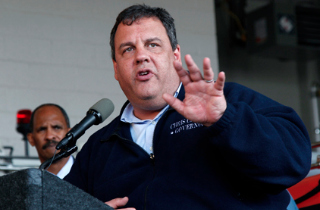 "I guess he prayed a lot and got lucky a storm came," NJ Democratic state senator Stephen Sweeney said about Gov. Chris Christie on Monday. Though he quickly apologized, Christie's office released a statement saying Sweeney should be telling the state's residents he is ashamed of his remarks.
In a news conference, Sweeney made the following criticism of Christie's economic policies, according to Philly.com:
"We gave the governor a jobs package. We gave him one. He vetoed it. And his job package is a hurricane. I guess he prayed a lot and got lucky a storm came. I shouldn't say that…I apologize for saying it."
Despite the immediate apology, the governor's office issued this statement:
"It was shocking to hear Senator Sweeney reduce Hurricane Sandy and its devastation to a heartless partisan attack. Ask the thousands of New Jerseyans whose homes or businesses were destroyed or damaged if they view Hurricane Sandy as a partisan political issue, or if this is what they want to hear from their leaders at this time of recovery as we fight for disaster aid in Washington. No one 'prayed' for what New Jersey has endured. This is politics at its worst and Senator Sweeney's next press release should be to all residents of New Jersey saying he is ashamed of what he said today."
But the back-and-forth wasn't over there. Sweeney released his own statement chiding Christie for "exploiting" his "misstatement."
"The truth of the matter is the chief politicizer of Sandy has been none other than Chris Christie. There is no better example of this than his appearance on Saturday Night Live. I stand with every member of the Legislature and elected official in this state to help victims of Sandy to recover to a better place than before. But I will not stand by and allow this governor to turn a blind eye to the problems he has created or ignored during his three years in office.
The statement went on to hit Christie's leadership on job creation, women's issues, healthcare, and housing. The storm does not give Christie the right to "erase the blackboard" and ignore other issues facing the state, he said, tossing in the "Etch A Sketch moment" phrase for good measure.
(h/t Philly.com)
Have a tip we should know? tips@mediaite.com