No, Donald Trump Didn't Flicker the White House Lights After Fox & Friends Asked Him To
A Fox News clip went viral Friday morning that appeared to show President Donald Trump following the on-air demands of Fox & Friends, but the video was achieved using digital trickery.
In the seven o'clock hour, host Steve Doocy noted that in the previous hour, he asked Donald Trump to flicker the White House lights on and off in case he was listening (a gag on Trump's proclivity to react in real-time to Fox News segments). They then aired video of a room in the White House doing just that.
Fox & Friends then assured the audience that the video was a joke, and they used an effect to make it look like Trump had complied. But when Bernie-Bro-turned-Trump-supporter Harlan Hill posted video of the segment on Twitter, it cut off before the disclaimer.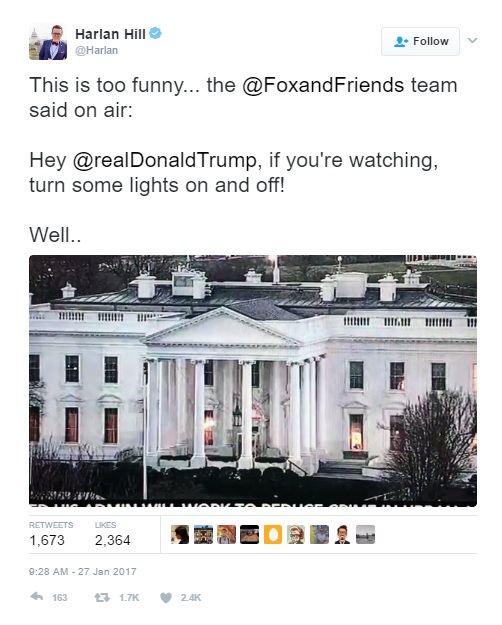 The tweet racked up thousands of retweets and likes, and pundits and journalists reacted as though the video was real.
This appears to be real. https://t.co/mhIbZvmjRs

— Glenn Greenwald (@ggreenwald) January 27, 2017
tell me this isn't real! I want to believe this is fake news, but suspect it isn't https://t.co/SVo1rKsD4d

— Jon Sopel (@BBCJonSopel) January 27, 2017
dear lord https://t.co/Z1gSCfjxiM

— Michael Zelenko (@mvzelenks) January 27, 2017
we're doomed https://t.co/auRFKiyZhK

— Jessica Valenti (@JessicaValenti) January 27, 2017
I'm dead now https://t.co/HvN15x9bDO

— Charlotte Wilder (@TheWilderThings) January 27, 2017
You have got to be kidding me. https://t.co/9gzl8x33QG

— Yung Pontiff (@kwameopam) January 27, 2017
When this reporter pointed out the clip was taken out of context, Hill said the video had been sent to him that way.
Guys, Harlan cut off the part where the Fox anchors said it wasn't real, and they used a video effect. https://t.co/2xAn8OcMUz

— Alex Griswold (@HashtagGriswold) January 27, 2017
I didn't cut off anything, clip sent to me as is. https://t.co/Dlp2mIMdTd

— Harlan Hill (@Harlan) January 27, 2017
Watch above, via Fox News.
[Image via screengrab]
—
>>Follow Alex Griswold (@HashtagGriswold) on Twitter
Have a tip we should know? tips@mediaite.com