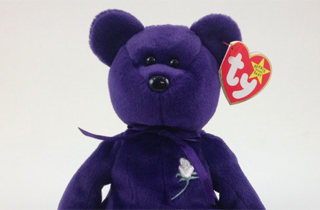 In the past few days, you may have seen numerous online articles about a British couple who discovered that they had an extremely valuable Beanie Baby on their hands. If you're under the age of 30, you may have immediately bolted to your garage to see whether you still have the Princess Diana Beanie Baby in the hopes that you, too, could sell it on eBay for a possible $100,000. We here at Mediaite are about to mercilessly crush your childhood and adulthood dreams: that's a friggin' hoax.
The Daily Mail initially reported that Leah Rogers and Ryan Flanaghan, a young couple from Cornwall, had picked up the purple bear at a garage sale for £10. Rogers, a former Beanie baby collector, said that she'd recalled that the bear, released in the wake of Princess Diana's death in 1998, was worth something. According to the Daily Mail, the bear, "one of just 100 made around the world" was worth £62,500 on eBay, or roughly $93,000 USD.
This news immediately made millennials flip out and ask their parents whether they still had their Beanie Babies collection at home, momentarily forgetting that the fad was based on the premise that certain Beanie Babies would eventually be worth thousands' of dollars, and ended up a massive Beanie Bubble that popped.
According to TyCollector.com, the online authority of all things Beanie Babies, the Princess Diana beanie baby is worth $47 at most, explaining why my family has two at home and we are not suddenly going on a Surprise Vacation.
In a hilarious twist, they called the Daily Mail's reporting "irresponsible and non-professionally researched":
The writer of the original article (as is usual with these types of articles) used "listing" prices on eBay, as opposed to the prices buyers have actually paid for Princess over the past 30 – 60 days, to support the premise that Princess is valuable. One cannot avoid speculation about the credibility of ANY article in the UK Daily Mail or The Sun, when those online magazines/newspapers permit such a misleading article as the one about the Princess Beanie Baby to be published.

We are truly sad so many peoples' hopes were mistakenly raised by reading a fraudulent article that suggested they might own a rare and valuable Princess Beanie Baby.
Today, The Daily Mail received media criticism from a Beanie Baby collector site. Yep, we've pretty much seen it all at this point.
[h/t MyFox6]
[Image via eBay.com]
—
>> Follow Tina Nguyen (@Tina_Nguyen) on Twitter
Have a tip we should know? tips@mediaite.com