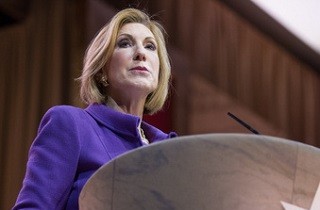 Republican presidential candidate Carly Fiorina has some pretty surprising things to say about drug laws. Namely, she wouldn't argue with states that want to legalize marijuana. This is in direct contrast to Gov. Chris Christie, who is not officially running for president (yet), who recently said that he would increase federal enforcement in such states.
While Fiorina says that she is "personally" against the legalization of marijuana, if states follow suit with Colorado and Washington and vote to legalize, she won't get in the way of states making their own choices on the matter, pointing out that the state could always vote again if they changed their mind.
Is this a means of trying to get younger voters on her side, like the ones who would vote for Sen. Rand Paul, who supports legalizing medical marijuana on a federal level?
This is politics, so that is entirely possible, but as The Hill reminds us, Fiorina has personal experience with the failures of the war on drugs. In 2009, her step-daughter died after struggling with drug addiction and Fiorina has said on the record that penalties for drug-related crimes need to be re-examined. She told Fox & Friends that "when we incarcerate people for abuse of drugs, we are not helping them."
It's not an entirely unusual position for a Republican to take — states' rights, anyone? — but maybe this signals a shift in a Republican Party that recognizes that some of its old chestnuts aren't pleasing as many crowds as they used to.
[h/t The Hill]
— —
Have a tip we should know? tips@mediaite.com