Norah O'Donnell Teaches TV Journos Another Lesson With Rob Portman Stuffage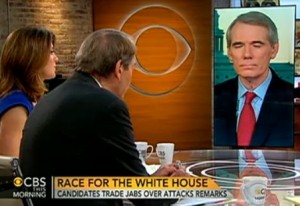 Former Chief White House Correspondent and newly-minted CBS This Morning co-host Norah O'Donnell has been on fire lately, holding a veritable clinic on how to interview dishonest politicians that her mainstream media colleagues would do well to study. In the latest example of this, O'Donnell abandoned the current media fashion of ignoring lies (or presenting the truth as just another counter-argument), and pursued Sen. Rob Portman's (R-OH) disinformation on the recent violence in Libya like a Terminator with OCD.
What O'Donnell has been doing recently shouldn't seem as remarkable as it is, but good old-fashioned feet to the fire followup is a sadly dying art, especially in television news. Interviewers either let lies and misinformation slip by because they need to hit all their prepared questions before time's up, or because they're numb to post-truth politics, or they present the facts in asterisk fashion before moving on to allow more lies to spew forth.
For O'Donnell, this is just an extension of the toughness she displayed as a White House reporter, but in her new role as morning show co-host, unprepared politicians like Sen. Rob Portman are in for a rude awakening.
Sen. Portman appeared on CBS This Morning Thursday morning to try and stanch the bleeding from Republican presidential candidate Mitt Romney's monumental foot self-strafing on the violence in Libya and Egypt.
Portman began with the lie that "(Gov. Romney's) statement was made the night before we knew about the deaths of those four brave Americans in Libya. So, it was in relationship not to what happened in Libya but, of course, what happened in Egypt," when, in fact, the Romney statement actually referenced the death of one American consulate worker in Libya. He went on to say that  "The first statement that came out, and it says at its start, we apologize (note: nothing remotely similar to those words appears anywhere in the embassy statement). I think most Americans would look at that and say, gosh, that's not the appropriate response when your embassy is assaulted, when the American flag is taken down, and two Islamic flags put up over American territory and lives were in jeopardy."
O'Donnell confronted Sen. Portman with the fact that "the statement from the U.S. embassy in Cairo was issued before there were any attacks. They were issued because there was concern about protests," then asked "Do you know that?"
"No," Portman replied, "I was not aware it was issued before there were any attacks."
Most people, at that point, would have reached for an ice cold can of Shut The F Up™, but Portman tried to close the loop by saying "I still think it implies that somehow these attacks could be justified by, again, a video that the U.S. government had nothing to do with, that came out in July and…"
At this point, if they'd challenged him at all, most mainstream interviewers would probably move on to the next question, but O'Donnell interjected "Senator, forgive me, but that is the point of this whole thing. As the President said, the U.S. embassy in Cairo issued that initial statement before these protests, and way before the attacks in Libya to try and cool things down. The attacks had not yet occurred. There was no apology that had taken place."
Portman kept at it, saying that the embassy statement was "an apology for a video, again, that we had nothing to do with," and explaining that "for Gov. Romney having seen that statement to react as he did is the reaction that most Americans would have, which is that, at a time when we have this kind of violence against American territory, the thing to do is to condemn it. Not to begin by issuing an apology, again, about video that had nothing to do with…
O'Donnell once again brought the truth down on Portman like the Hammer of Thor, cutting in and saying "Senator, there was no condemning the attacks had not occurred. When the attacks occurred, of course the administration came out and condemned that."
Even after all of that, Portman repeated the lie once more, saying "I think you saw something that appeared to be inappropriate because it was talking about an apology before condemning the attacks and made a statement about it," and just talked his way through to the end of the segment.
O'Donnell's performance here should be in network news training videos, because the only way to get these people to stop lying is to put up a lie stop sign. For awhile, of course, every interview would look like this one, with the subject being stuck on the one lie for the whole interview, but eventually, they'd have to either start fessing up when they're busted, or (heaven forbid) just start telling the truth.
Here's the interview, from CBS This Morning:
Follow Tommy Christopher (@TommyXtopher) on Twitter.
Have a tip we should know? [email protected]