North Korea: Air-Dropping DVDs of The Interview Will Be Considered Act of War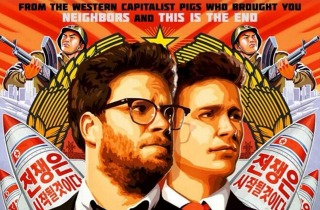 Oh, great, North Korea is getting huffy about The Interview again: upon learning that pro-democracy activists were planning to drop leaflets and copies of the controversial Sony movie across the border, the authoritarian state declared that they would consider it "a de facto declaration of war."
According to the AFP, the North Korean government is taking the balloon threat very seriously, saying that they will take appropriate countermeasures if the balloons cross the border. "All the firepower strike means of the frontline units of the (Korean People's Army) will launch without prior warning… to blow up balloons," they warned South Korea.
While it seems kind of silly that North Korea would use "all the firepower strike means" in an offensive against some balloons, South Korean citizens living close to the border worry that their lives are at risk:
The South's military said it would retaliate if the North opens fire on its territory.

But the North's notice warned that any challenge to its "just physical countermeasures" will trigger "merciless retaliatory strikes".

South Koreans living near the border are "recommended to evacuate in advance for their safety" if the balloons are launched, it said.
The AFP notes that South Korea's Unification Ministry may prevent the launch for the safety of local resident — last year, a balloon launch led to an exchange of machine gun fire across the border — "saying there is a 'limit' to freedom of expression."
The movie itself became the center of a diplomatic controversy last December, when hackers, allegedly associated with the North Korean government, hacked into the computers of its distributor Sony Pictures and dumped a massive cache of embarrassing personal emails and sensitive personal information.
[h/t The Daily Intelligencer]
[Image via Sony Pictures]
—
>> Follow Tina Nguyen (@Tina_Nguyen) on Twitter
Have a tip we should know? tips@mediaite.com