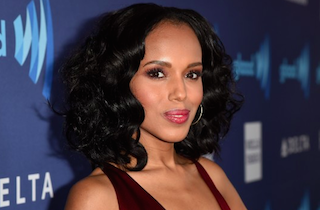 This past weekend, actress Kerry Washington received GLAAD's Vanguard Award for her role as an ally to the LGBT community. After admitting her acceptance speech would probably be "preaching to the choir," she said she needed to "say some stuff" because "on Monday morning, people are going to click a link to hear what that woman from Scandal said at that award show, so I think some stuff needs to be said."
Over the next several minutes, Washington explained why she believes people who are "kept from our full rights of citizenship would ban together and fight the good fight," despite the fact that, as "history tells us," that has not always been the case.
"Women, poor people, people of color, people with disabilities, immigrants, gay men, lesbians, bisexuals, trans people, intersex people — we have been pitted against each other and made to feel like there are limited seats at the table for those of us who fall into the category of 'other,"" she said. "As a result, we have become afraid of one another. We compete with one another. We judge one another. Sometimes, we betray one another."
But the section of Washington's speech that has gotten the most attention is the part where she directly addressed the unfortunate prevalence of homophobic in the African-American community. Looking back nearly 20 years to when Ellen DeGeneres first came out publicly, Washington saw an America that looks very different from the one we see today:
"In 1997, when Ellen made her famous declaration, it took place in an America where the Defense of Marriage Act had just passed months earlier, and civil unions were not yet legal in any state – but also remember, just thirty years before that, the Supreme Court was deciding that the ban against interracial marriage was unconstitutional. Up until then, heterosexual people of different races couldn't marry who they wanted to marry, either. So when Black people today tell me that they don't believe in gay marriage…the first thing that I say is, 'Please don't let anybody try to get you to vote against your own best interests by feeding you messages of hate.' And then I say, 'You know, people used to say stuff like that about you and your love, and if we let the government start to legislate love in our lifetime, who do you think is next?'"
Just two years ago, an article in the National Journal described African-Americans as "the last Democratic holdouts on gay marriage," noting a 2013 survey that found 40% of black Americans in support of same-sex marriage while 49% of whites and 61% of Democrats were in favor. By last fall, the divide remained with 42% of black supporting gay marriage compared to 53% of whites, according to Pew.
As perhaps the most prominent black actress on television, Washington's words could go a long way towards closing that gap.
Watch video below, via GLAAD:
[Photo via GLAAD]
— —
>> Follow Matt Wilstein (@TheMattWilstein) on Twitter
Have a tip we should know? tips@mediaite.com