Not Again: Lamar Odom Pulled From Plane for Being Too Intoxicated
Khloé Kardashian used Twitter to express her disappointment.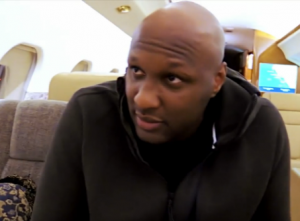 The ballad of Lamar Odom is a mournful one that sports fans, Kardashian keepers-upper, and Nancy Grace viewers alike have been dutifully humming for years. Within the nine months, he was found unresponsive in a brothel and it seemed certain that he would die. With the help of his estranged spouse, Khloé Kardashian, he made progress, shocking countless gossip bloggers who had undoubtedly pre-written posts about his death complete with link after link to old stories about his years-long battle with addiction. There were even rumors that Kardashian lost her talk show because she was too dedicated to his recovery.
It looks like that was in vain.
Odom was kicked off a flight from Los Angeles to New York City last night. It has been reported that he was seen drinking heavily in the airport lounge and then threw up on himself once on-board the plane. Our friends at Gossip Cop summarized what happened next like this:
Odom reportedly ran to the bathroom and continued vomiting with the door open, before returning to his seat with puke on his clothes. Flight attendants quietly asked the former Laker to leave the plane as a cleaning crew was brought on board to clean the mess. However, a still vomit-soaked Odom supposedly returned to the plane and tried to take his seat, then got up and walked back to the restroom while steadying himself on passengers' heads.
He was removed again at the request of passengers.
Kardashian appears to have responded with this subtle message:
?

— Khloé (@khloekardashian) July 12, 2016
@scottkardashx just pray ❤️❤️❤️

— Khloé (@khloekardashian) July 12, 2016
@WestsHouse but we like to try ❤️??

— Khloé (@khloekardashian) July 12, 2016
Unfortunately, it's not looking good for the former Laker.
[image via screengrab]
For more from Lindsey: Twitter! Facebook!
Have a tip we should know? tips@mediaite.com