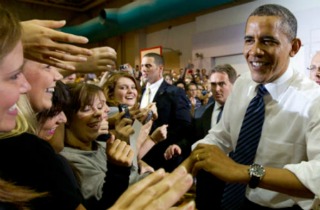 National Public Radio's editorial vision is often viewed as one that is friendly toward Democratic policy objectives and particularly those of President Barack Obama. It would seem, however, that the news outlet's patience with their ally in the White House is diminishing. On issues ranging from drone warfare, to the National Security Agency's surveillance tactics, to intervention in Syria, NPR is firing a series of shots across the bow of the USS Obama on Monday.

"It's been a long, disappointing year for many of President Obama's most ardent supporters," a dispirited Liz Halloran writes for NPR. "From drones and Syria, to immigration and the Keystone XL pipeline, the list of issues on which the president has induced frustration and disillusionment is not a short one."
She notes that a series of polls have observed that "key members" of Obama's "winning coalition" are registering their disapproval with the president – including Hispanics, women, self-described liberals, and young voters.
On drones, Halloran notes that the White House has all but ignored Democratic activists who have demanded that the rules of engagement governing the use of unmanned aerial vehicles be reformed to reduce civilian casualties. She quotes Washington Post columnist Eugene Robinson who called the inaction a "great moral failure" in stark contrast to the "moral triumph" of the passage of the Affordable Care Act.
RELATED: Mission Accomplished: Obama's Base-Rallying Speech 'Relieving' for MSNBC's Alex Wagner
On "spying," the NPR reporter notes that Obama's unconvincing assertion that he was unaware of programs which spied on foreign leaders has been rendered utterly hollow by his White House's refusal to reform surveillance procedures.
This week, a U.S. Court weighed in with a decision that excoriated the NSA's collection of Americans' phone calls as "almost Orwellian," and an infringement on Fourth Amendment protections from unreasonable searches and seizures.
On intervention in Syria, Halloran notes that liberals were "divided" on what to do about the humanitarian crisis in that Mediterranean nation. However, she observes that the administration's inaction damaged its credibility. Further, Halloran asserts that Obama eagerly embraced an ill-supported diplomatic solution to the crisis which "is now in shambles."
Finally, Halloran sees the White House's repeated insistences that the Keystone XL pipeline is necessary for the country's economic security may not necessarily result in its construction. However, the opportunity to pursue strict legislative reforms addressing climate change using the pipeline as leverage has largely passed.
She closes with a final depressing note for the Democratic base, observing that a "diminished" president will find it difficult in 2014 to move forward on progressive legislative reforms addressing issues like "gun control, immigration reform, and a bump in the minimum wage."
[Photo via AP]
— —
> >Follow Noah Rothman (@NoahCRothman) on Twitter
Have a tip we should know? tips@mediaite.com