NRA President David Keene Complains About Not Being Invited To The White House For Gun Talks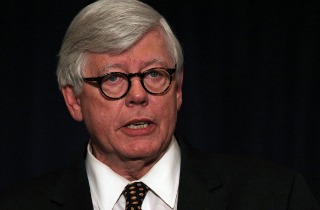 NRA President David Keene complained Friday that the group had been left out of talks with the White House on possible measures to reduce gun violence. Following the Newtown tragedy, Vice President Joe Biden was appointed to lead a task force and according to Keene, Biden has yet to contact the NRA for their take.
Keene wasn't surprised the group has been ignored, since, according to him, Biden is "not even a friendly antagonist." Reuters notes that "the lack of communication between the White House and the largest U.S. lobbying group for gun owners is a sign that the shooting in Newtown, Connecticut, has so far failed to change long-held stances on gun politics."
Biden has met with Cabinet members to discuss possible new gun legislation and has included law enforcement officials and city mayors in the talks. The White House has said they plan to meet with gun safety groups and gun owners, as well, but hasn't addressed a possible NRA invitation. Reuters reached the White House Friday but was given no comment.
NRA Vice President Wayne LaPierre famously indicated in a press conference earlier this month that more guns were the answer, instead of more gun laws, and was publicly derided for it. Keene is still optimistic about the talks, though: "I'm willing to talk to anybody. I'm willing to sit down with anybody up there."
Keene says he would not, however, agree to "gut" gun rights:
"I'm going to want to have a conversation about how we protect our children. That's a serious conversation. Offering sort of feel-good bills doesn't strike me as serious."
Biden's task force is set to make their recommendations in January.
—
>> Follow Anjali Sareen (@AnjaliSareen) On Twitter
Have a tip we should know? tips@mediaite.com