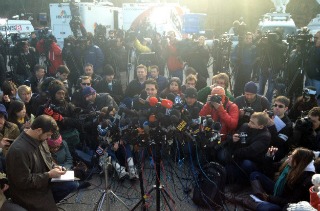 Rin Kelly, a writer for Salon.com whose mother and aunt were both teachers at Columbine High School, poses a new question surrounding the Newtown massacre in an editorial today: "Do media vultures perpetuate mass shootings?"
Kelly recalls standing outside the Columbine on the day of the attacks, when she was horrified to overhear a reporter's conversation. A journalist near her "flipped open a phone" and shouted into it, "It's Pulitzer time!" With seemingly no regard for human life, Kelly notes,
"The way our news media descends on a community in crisis, thieves its grief, and overlays false narratives atop the real can be permanently and alienatingly traumatic."
The recent media coverage of the Sandy Hook shooting highlights the issue, she says: "Putting children before cameras in Newtown, Conn., simply to have traumatized children on camera is the newest and most plainly grotesque of these acts."
Kelly says the "thoughtless, story-scramble" journalism that "we all know and loath" leads to the obvious problem of exploitation. More subtle, however, are the "long-term effects of speculation and copycat-baiting; of simplification and assumption and shallow debate," and of "refusing to let the locals opt out of endless, image-bloated reruns."
The "legacy of terrible journalism," according to Kelly, is the anonymity of the victims but the rise to fame of the killer.
Park Dietz, a forensic psychologist, believes that to fix that trend two major steps must be taken: a return to the "emotional tone" of reporting on these events and a reduction or elimination of biographical and identifying information about the shooter. Dietz believes the media culture now helps "incentivize those rare individuals who might be prepared to act similarly." According to Dietz,"No amount of fulfillment of morbid curiosity is worth more lives."
Kelly believes along with the cries for increased gun legislation in America, "there are also angry calls for a new journalism." People were angered by images of reporters in Connecticut interviewing terrified children and are "calling for an end to news as spectacle."
Read the full piece at Salon, here.
—
>> Follow Anjali Sareen (@AnjaliSareen) On Twitter
Have a tip we should know? tips@mediaite.com