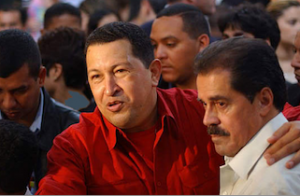 The death of Venezuelan president Hugo Chavez has drawn a relatively united response from Washington, with members of both parties wishing the people of Venezuela well without offering any praise to Chavez specifically. In a short statement, President Obama said, "the United States reaffirms its support for the Venezuelan people and its interest in developing a constructive relationship with the Venezuelan government." But at least one Democratic congressmen is standing out for his effusive tribute to Chavez on Twitter.
Rep. José E. Serrano (D-NY) tweeted the following Tuesday afternoon, shortly after Chavez's death was announced:

Serrano, who had previously struck a deal with Chavez to import Venezuelan oil to help heat homes in the Bronx, also released a longer statement on Chavez's passing on his House website, reading in part:
"Though President Chavez was accused of many things, it is important to remember that he was democratically-elected many times in elections that were declared free and fair by international monitors. Even today, people in North America seem unable to accept that Venezuelans had taken our admonitions to have democracy to heart and elected the leader of their choice.

President Chavez was a controversial leader. But at his core he was a man who came from very little and used his unique talents and gifts to try to lift up the people and the communities that reflected his impoverished roots. He believed that the government of the country should be used to empower the masses, not the few. He understood democracy and basic human desires for a dignified life. His legacy in his nation, and in the hemisphere, will be assured as the people he inspired continue to strive for a better life for the poor and downtrodden."
Serrano's fellow Congress members expressed a sentiment closer to that of President Obama.
Rep. Paul Gosar (R-AZ) tweeted a message about Venezuelans choosing capitalism, with a link to Fox News: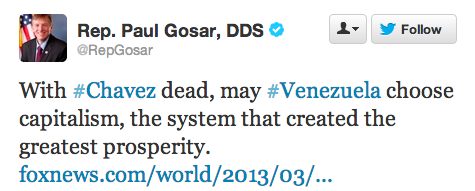 Rep. Eliot Engel (D-NY) tweeted about a hopeful message about a "fresh start" between the U.S. and Venezuela: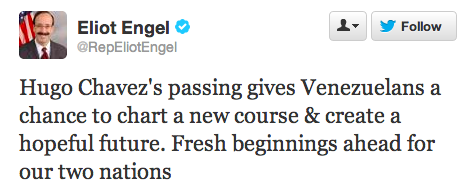 Rep. Ileana Ros-Lehtinen (R-FL), who is Cuban-American, tweeted in Spanish about Venezuela's "new opportunity for democracy":

—
>> Follow Matt Wilstein (@TheMattWilstein) on Twitter
Have a tip we should know? tips@mediaite.com