NY Post: Huma Abedin Worked With Radical Muslim Journal That Blamed U.S. For 9/11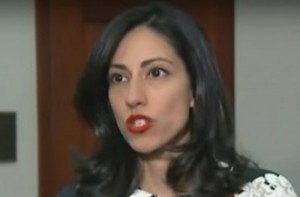 In a lengthy Sunday piece, Paul Sperry with the New York Post chronicled the 10 years that Huma Abedin worked for Journal of Muslim Minority Affairs. The controversial publication reportedly opposed women's rights and, at one point, seemed to blame the U.S. for 9/11. Abedin currently serves as a top aide to Clinton's campaign, and also worked for the First Lady when she served as Secretary of State.  The Post reports that Abedin continued to work for the publication until 2008. Abedin's mother, Saleha Mahmoud Abedin, serves as Editor-In- Chief.
In an article from 1996, Huma's mother wrote that Clinton and others who spoke at a UN conference were promoting a "very aggressive and radically feminists agenda" that was un- Islamic, according to The Post.
Here is a particularly interesting tidbit from the article in which Abedin apparently took on Clinton for her stance women's rights:
One of Clinton's biggest accomplishments listed on her campaign Web site is her support for the UN women's conference in Bejing in 1995, when she famously declared, "Women's rights are human rights."….

However, soon after that "historic and transformational" 1995 event, as Clinton recently described it, her top aide Huma Abedin published articles in a Saudi journal taking Clinton's feminist platform apart, piece by piece. At the time, Abedin was assistant editor of the Journal of Muslim Minority Affairs working under her mother, who remains editor-in-chief. She was also working in the White House as an intern for then-First Lady Clinton.
Sperry reported that Abedin's mother also had an article from 2002 in which she basically said the US was destined to be attacked by terrorists on 9/11 because of  "sanctions" it imposed against Iraq and other "injustices" on the Muslim World. Abedin has played a key role in Hillary Clinton's campaign.  The campaign denied The Post's repeated requests for an interview.
Have a tip we should know? tips@mediaite.com