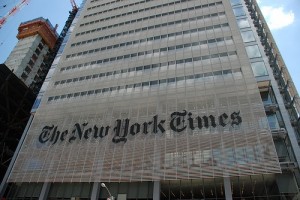 The New York Times today announced the launch of its "digital subscriptions" – known more commonly as a paywall – in Canada. On the 28th of this month, NYT readers in the U.S. will be offered digital subscriptions as well. (The company hopes to work out any kinks in the system before launching the new paywall in the U.S. Sorry again, Canadians.)
The paper sent out an email to readers highlighting the different restrictions and regulations that will come about due to the change. Non-subscribers will be able to view 20 articles each months at no charge, after which they will be prompted to join as a digital subscriber for additional access. The "Top News" section, viewable on smartphones and other electronic readers, will remain free. Home delivery subscribers will also have free, full access to the paper's website and apps. In addition, the NYTimes.com home page and all section fronts will remain free to browse. The paywall is metered, meaning one will have the option of paying different amounts for different levels / means of access. So: Interested readers will have to shell out $15 for a month's worth of access to the paper's site and a mobile phone app, $20 for online access and an iPad app, and $35 for an all-access plan.
And here's where things get interesting (this is via the email sent out by the NYT):
Readers who come to Times articles through links from search, blogs and social media like Facebook and Twitter will be able to read those articles, even if they have reached their monthly reading limit. For some search engines, users will have a daily limit of free links to Times articles.
Now, this isn't news for anyone who has worked with paywall-restricted sites in the past – Googling a paywall-protected article's title or URL will, in many cases, allow you access to the full story.
As expected, Twitter is exploding (or, at least, exploding if you happen to follow various media types) with mixed reactions about the announcement, despite the reality that news of an eventual NYT paywall has loomed over us for some time now. Some say it makes a lot of sense, given the changing media landscape, to expect to pay for online content in a way that is similar to – but not exactly the same as – paying for print content. Others make the point that so much news is available through other, free outlets (like aggregators and other sites that link to the NYT as a source), that there's no real need to pay for online access.
Would you pay for a digital subscription to The New York Times – or any paper, for that matter?
Have a tip we should know? tips@mediaite.com