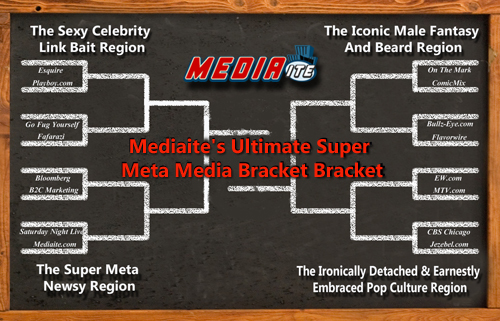 Starting to feel overwhelmed by the onslaught of brackets organized by blogs, magazines and TV shows that use March Madness "bracketology" as a construct for some meta media commentary? Yeah, so are we. So far, we've stumbled upon brackets ranging from the truly clever to the amusingly cutesy to the downright obnoxious. Now, if you happen to be in need of some sort of guide to navigate the clever from the clumsy, well. We're here to help with our very own (You guessed it!) even cleverer, cutesier (to wit) and far more obnoxious meta bracket: The Ultimate Meta Media Bracket Bracket™.
We've noticed a plethora of media outlets creating cutesy faux tournament formats to judge and rank everything from the predictable (Sexiest woman!) to the precious (Dog vs. Cat) to the just plain bad (Bad things!). So as a service to our dear readers, we've arranged our own bracket of content modules for you to enjoy from a safe distance of ironic detachment. Before we launch into the actual bracket, let's first break down our "Regions."
Just as there are regions in the NCAA Men's and Women's basketball tournaments, we've crafted four categories of participants. They are:
The Sexy Celebrity Link Bait Region
Esquire's Sexiest Woman Alive Bracket.
Esquire, the magazine for men who enjoy expensive hair gel and deodorant ethically crafted by lesbian Tibetan monks, has brought back its Sexiest Woman Alive bracket. ("You like March Madness and you like women," claims Esquire, alienating every male friend I've ever had in one fell swoop. "So why not combine the two all over again?") This year's tournament includes the likes of Victoria's Secret model Adrianna Lima and Kate Middleton, the pretty commoner poised to marry England's Prince William. Next year belongs to me.
Playboy.com's March Gladness For NBDoubleD(cough)
Meanwhile, Playboy.com, a website for men who enjoy lesbian Tibetan monks, has organized a March Gladness bracket for the "NBDoubleD." Get it?! BOOBS! Players can choose between this one girl's set of airbrushed boobs or that other young lady's set of airbrushed buttocks. And, hey, we're pretty sure you only need one hand to play.
Go Fug Yourself's Fug Madness
For the fashionable and/or judgy among us, there's Go Fug Yourself's Fug Madness bracket. Can Gossip Girl actress Taylor Momsen's propensity for wearing little more than combat boots and tangled hair extensions outweigh pop star Ke$ha's insistence that a crumpled Burger King crown and a cork constitute a perfectly acceptable ensemble? The anticipation is giving me an ulcer, which I will proceed to bedazzle.
Fafarazzi's Celebrity March Mayhem
Celebrity gossip site Fafarazzi is offering several pools for its readers to participate in as part of its Celebrity March Mayhem, including ones for TV, movies, music and more. For instance, which doe-eyed, floppy-haired actor occupies more real estate in your heart: Zac Efron, or Katie Holmes?
>>>Next – The Ironically Detached Earnest Fun Region.
Have a tip we should know? tips@mediaite.com