NY Times Broke 'Informal Arrangement' Among News Orgs Not To Disclose Saudi Drone Base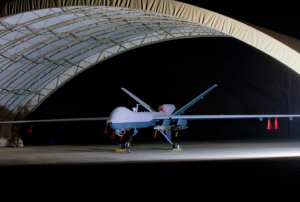 A front-page story from today's New York Times describes a drone strike in Yemen last August. In doing so, the paper also revealed the location of a drone base in Saudi Arabia. It appears several news organizations, including the Washington Post and the Associated Press, were part of an informal arrangement not to disclose the base's location — and the Times broke that arrangement, deciding not to withhold information.
The Washington Post's Erik Wemple reported that: "According to a reporter on the national security beat, the New York Times participated in an 'informal arrangement' to keep secret a Saudi Arabian base for U.S. interests—and then suddenly withdrew from that arrangement."
And the NYT wasn't alone.
The Washington Post had refrained from disclosing the specific location at the request of the administration, which cited concern that exposing the facility would undermine operations against an al-Qaeda affiliate regarded as the network's most potent threat to the United States, as well as potentially damage counterterrorism collaboration with Saudi Arabia.

The Post learned Tuesday night that another news organization was planning to reveal the location of the base, effectively ending an informal arrangement among several news organizations that had been aware of the location for more than a year.
The Associated Press, too, informed that they "first reported the construction of the base in June 2011 but withheld the exact location at the request of senior administration officials."
Margaret Sullivan, the NYT's public editor, said the paper made the right decision — and that there should be more transparency with regard to the drone program.
"If it was ever appropriate to withhold the information, that time was over," she wrote. "The drone program needs as much sunlight as possible. This is another crucial step in the right direction."
(h/t WaPo)
Have a tip we should know? [email protected]