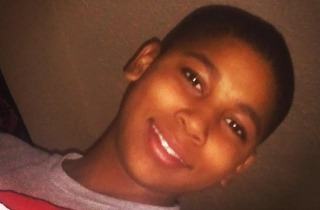 The New York Times editorial board Tuesday said Tamir Rice, the 12-year-old black child shot and killed by police in 2014, would still be alive today "had he been a white 12-year-old playing with a toy gun in just about any middle-class neighborhood in the country."
The Times argued Rice "had the misfortune of being black in a poor area of Cleveland, where the police have historically behaved as an occupying force that shoots first and asks questions later."
The op-ed comes after a grand jury Monday declined to press charges against the officer who fatally shot Rice, calling it "a perfect storm of human error" that led to the child's death.
But the Times said the grand jury's ruling reflects a deeper, more pervasive problem than the administrative and clerical errors that impeded the officers from approaching Rice as "probably a juvenile" with a gun that was "probably fake" — two caveats mentioned by the 911 caller who alerted authorities to Rice before the child was killed.
"It reflects an utter disregard for the lives of the city's black residents," the Times wrote, later adding that the police department's disregard for life was also "evident in the way the officers behaved after shooting Tamir." Officers stood by Rice for four minutes without providing emergency medical care.
The Times lamented the prosecutor's portrayal of Rice's death as "a tragic misunderstanding," which has "the reprehensible effect of shifting the responsibility for this death onto the shoulders of this very young victim."
"These arguments sidestep the history of violent, discriminatory police actions that led up to this boy's death," the Times wrote.
[Image via screengrab]
—
>> Follow Elizabeth Preza on Twitter (@lizacisms)
Have a tip we should know? tips@mediaite.com