NY Times Media Reporter Brian Stelter: Twitter, Facebook A 'Formidable Presence' In 2012 Election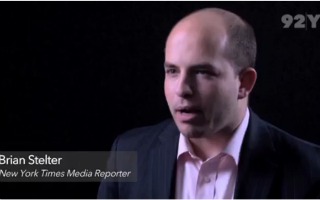 New York Times media reporter Brian Stelter recently sat down with the folks behind the 92Y Campaign for the American Conversation to discuss the role of social media in the 2012 election.
Stelter sees both Twitter and Facebook as acting, together, as a "formidable" presence on this year's election, particularly when compared to the smaller role the social networks played a mere four years ago. He's noted, for instance, the surge in online activity during events like debates, surmising that many tune in to these precisely because they see their friends discussing them online — which, naturally, translates into greater ratings for televised political events.
He also noted the fun (and/or utterly, completely annoying) meme-generating capacity that online sharing offers, using the slew of "Big Bird" jokes and image macros as one example. (Not to mention the Halloween costumes inspired not so much by politics, but by the internet's conversation about politics.)
He also comments on the "loud echo chamber" created by the segment of viewers who religiously tune in to cable news programming and constantly talk about politics, while noting that, still, the majority of news consumers obtain their information from local news outlets — although it will likely be eclipsed by the internet in the very near future.
Stelter believes that the media actually does a great job of covering the election and politics in general — just not always when the general public is tuning and paying attention. As such, much of the criticism (warranted criticism, we should add) of the media revolves around the talking points and storylines that stick — basically, those surrounding gaffes, slip-ups, and memes-in-the-making.
Have a look at what he had to say below, courtesy of 92Y:
h/t 92Y Campaign for the American Conversation
Have a tip we should know? tips@mediaite.com