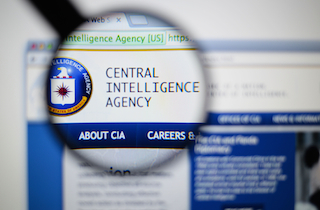 The New York Times published an éxposé Sunday on the CIA's drone program, which is under considerable scrutiny after the accidental killings of two hostages during a drone strike on an al Qaida compound were revealed by the White House last week.
In the post, the Times links the drone program to the CIA's previous torture program, largely through the figure of Michael D'Andrea, whose name the paper published against the CIA's wishes:
Perhaps no single C.I.A. officer has been more central to the effort than Michael D'Andrea, a gaunt, chain-smoking convert to Islam who was chief of operations during the birth of the agency's detention and interrogation program and then, as head of the C.I.A. Counterterrorism Center, became an architect of the targeted killing program. Until last month, when Mr. D'Andrea was quietly shifted to another job, he presided over the growth of C.I.A. drone operations and hundreds of strikes in Pakistan and Yemen during nine years in the position.

…But both programs were led by some of the same people. The C.I.A. asked that Mr. D'Andrea's name and the names of some other top agency officials be withheld from this article, but The New York Times is publishing them because they have leadership roles in one of the government's most significant paramilitary programs and their roles are known to foreign governments and many others.
As Gawker pointed out, this is a departure from the normal treatment of D'Andrea, whose identity was shielded even in a profile of him in the Washington Post last month:
Because he remains undercover, The Washington Post has agreed to withhold his full name. He has been publicly identified in the past by both his actual first name, Mike, as well as that of his CIA-created identity, Roger.
After that piece, Gawker's John Cook wondered why his name was so top-secret, given the literally extraordinary amount of power he wielded:
It's not clear why D'Andrea is being treated differently by the Post. He is not an operative being deployed in any theaters—D'Andrea is a very high-level bureaucrat with an enormous amount of power and taxpayer resources at his disposal. He works at a desk in CIA headquarters in Langley, Va. Generally speaking, government officials at this level are not deliberately shielded from accountability by the government, or by the newspapers that cover it. If it is the case, as Miller wrote, that D'Andrea was one of the people who would first face blame in the event of a terrorist attack on U.S. soil, it is difficult to imagine the justification for declining to name him. How would we know whom to blame?
[h/t Gawker]
[Image via Gil C / Shutterstock.com]
——
>> Follow Evan McMurry (@evanmcmurry) on Twitter
Have a tip we should know? tips@mediaite.com