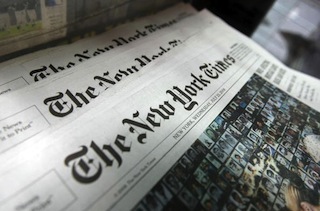 A New York Times editorial Tuesday parsed no words when opining on Donald Trump's ethnic attacks on Mexican-American judge Gonzalo Curiel, warning that Trump's rhetoric could lead to an "ethnic cleansing" of the judiciary.
Trump has argued that because Curiel was born to Mexican immigrants and because he is an advocate for a wall on the southern border, Curiel must recuse himself from the Trump University trial. But the Times points out that judges have ignored this reasoning for over a century: otherwise, defendants would exercise veto power by simply making public bigoted statements to nix judges they didn't like.
Trump, the editorial board argues, "has cast aside the Constitution and decades of jurisprudence by suggesting both ethnic and religious litmus tests for federal judges. These pronouncements illustrate that Mr. Trump holds the rule of law in contempt."
"Would exclusion be limited to first-generation Americans like Judge Curiel, who was born to Mexican immigrant parents, or would it be extended to his children, his grandchildren or even beyond?" the Times asks. "Would the exclusion of Muslims be limited to active practitioners of the faith or extended to descendants who were only vaguely religious or not religious at all? The answer, of course, is that once it started, the ethnic cleansing of the court system could be made to apply to any unpopular group at any time."
They also note that Trump has extended his logic to Muslims, and presumably every single group he's ever insulted. "At the rate he's going, there would soon be no person in the land left to judge him," the Times quips.
[Image via screengrab]
——
>>Follow Alex Griswold (@HashtagGriswold) on Twitter
Have a tip we should know? tips@mediaite.com