NYC Women Arrested for ISIS Bomb Plot Allegedly Thought About Bombing Cop Funeral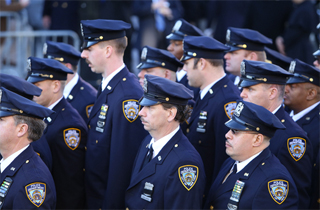 The complaint against Noelle Velentzas and Asia Siddiqui, the two women arrested today for plotting to commit an ISIS-style attack in New York City, detailed how the two women viewed themselves as "bad bitches" who wanted to "make history" with their attacks.
Though the duo only got so far as researching the basic components of bomb-making — the two were studying chemical and electrical engineering out of textbooks, and Siddiqui had obtained four propane tanks by the time of their arrest — the women, who were in communication with an undercover FBI agent since 2013, apparently bragged about their brushes with famed jihadists and bandied about potential targets for terrorism, such as the recent funeral for the slain Officer Rafael Ramos, attended by thousands of police officers. "Velentzas allegedly remarked that killing a cop was easier than buying food, because one had to wait in line to do that," the Daily Beast reported.
(In what appears to be a coincidence, Velentzas attended the same mosque as Ismaaiyl Brinsley, the man who executed Ramos and his partner, Wenjian Liu, sparking a citywide battle between the police and Mayor Bill de Blasio.)
They also were close with famous jihadis, such as the editor of ISIS's magazine Inspire and Tairod Pugh, the Air Force veteran who attempted to join ISIS.
The complaint alleges that they thoroughly discusses Pugh's case, as well as the Boston Marathon bombers and the Oklahoma City bombings, to learn from their successes and mistakes in order to successfully carry out their plan — and, of course, they wanted to be badasses about it:
"Why we can't be some real bad bitches?" Velentzas told her co-conspirator after pulling a knife from her bra and showing Siddiqui how she would stab someone who tried to attack her.
At one point, Velentzas grew paranoid that the FBI had been spying on them: "If [the government] was to put all the information about the three of us together, we legitimately, to these people, look like a cell," Velentzas said, according to the complaint. It turns out, they definitely were being spied on: the duo was arrested early this morning.
[The Daily Beast]
[Image via a katz / Shutterstock.com]
—
>> Follow Tina Nguyen (@Tina_Nguyen) on Twitter
Have a tip we should know? tips@mediaite.com