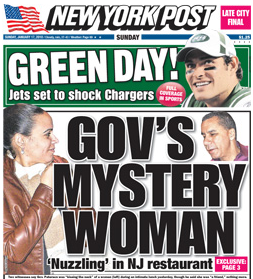 Ah, a tale of two tabloids. Over the weekend Governor Paterson, who admitted early on in his term that he and his wife had not always been faithful to each other, and whose son was arrested last week for shooting dice, (which is to say, Paterson is not new to the tabloids) was seen canoodling with a strange woman in New Jersey steakhouse. Or not. Politico's Michael Calderone first noted the different versions: behold the NYP vs. the NYDN over the case of our lovin' Governor.
From the Post:
Gov. Paterson was spotted nuzzling, neck-kissing and cooing like a smitten schoolboy with a pretty young woman — not his wife — in a New Jersey steakhouse yesterday afternoon, The Post has learned.

"I saw him kissing her neck," said Sharon Farrell, a lawyer sitting two tables away from Paterson and his mystery gal pal at the River Palm Terrace in Edgewater. "He was right on her neck, nudging, like back and forth." [Do you know the mystery woman? Email the Post at webeditor@nypost.com!] Paterson's spokeswoman later said the governor's dining partner was just a friend, and that he never got romantic with her.
And this from the slightly less salacious Daily News, which blames the Gov's beleaguered funds for the story not being cut off at the pass:
Paterson was forced to put out another political fire: a report alleging a romantic rendezvous at a New Jersey steakhouse.

Although both the governor and the woman insisted they are nothing more than family friends, political insiders said the latest headline shows the beleaguered governor just can't catch a break – or find the money to fix his image.
Short version? Just another day in the life of an Albany politician.
Have a tip we should know? tips@mediaite.com