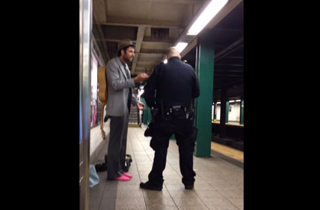 Musician Andrew Kalleen, 30, was playing a guitar at a Brooklyn subway stop when a cop approached him and, after reading a section of the law that explains Kalleen's activity was perfectly legal, proceeded to arrest him.
In the video below, an NYPD officer approached Kalleen and dinged him for his lack of a permit, to which Kalleen replied, rightfully, that he didn't need a permit to perform. The officer then proceeded to read section 1050.6(c) of the New York City Transit Authority, which is as follows [emphasis ours]:
Except as expressly permitted in this subdivision, no person shall engage in any nontransit uses upon any facility or conveyance. Nontransit uses are noncommercial activities that are not directly related to the use of a facility or conveyance for transportation. The following nontransit uses are permitted by the Authority, provided they do not impede transit activities and they are conducted in accordance with these rules: public speaking; campaigning; leafletting or distribution of written noncommercial materials; activities intended to encourage and facilitate voter registration; artistic performances, including the acceptance of donations.
After Kalleen continued to play his guitar, and amidst the protests of onlookers donating some cash and chanting "Fuck the police!", the cop then seized his guitar and arrested him for… we dunno, singing Pink Floyd?
An NYPD spokesperson told Gothamist that Kalleen was a "transit recidivist," i.e. he was "someone having an open ticket or warrant, perhaps related to turnstile jumping or a similar offense", and that he'd been arrested for loitering. If so, the officer sure did not make that clear. Wonder why.
Watch below via YouTube:

[h/t Gawker]
[Image via screenshot]
—
>> Follow Tina Nguyen (@Tina_Nguyen) on Twitter
Have a tip we should know? tips@mediaite.com