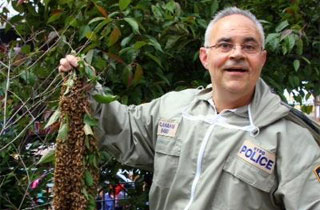 Today we learned that New York City Police Department has an unofficial bee containment unit who responds to bee complaints. We also learned that they can allegedly be the victims of office politics. And also that one can steal bees?
Such is the story of Anthony Planakis, a 38-year beekeeping veteran and the NYPD's former Bee Cop, who is accusing his superiors of forcing him out and falsely accusing him of stealing actual bees from the NYPD. He explained to Gothamist how the NYPD could technically accuse him of bee-stealing, because, really, that's the question we all have right now:
When responding to calls about swarming bees, Planakis would often box or vacuum up the insects, and he said that he did take them home, but that he would never integrate the street bees into the carefully kept hive in his backyard in Forest Hills.

"I wouldn't want them because I don't know where they came from, who had them, are they diseased? I don't know," he said. "I'm not gonna sit there and put them in with the possibility of destroying my hive."

Instead, he said he handed the bees off to trusted beekeepers, and that he never took a dime. Technically, the boxed-up bees would have been department property, but there was no one else qualified to handle them, and no procedure in place, he said. So when his bosses accused him of profiting off the pollinators, Planakis was pissed.

"They said, technically I was stealing," he said. "I looked around and I said, 'Hey, no problem! I'll walk into the closest precinct and throw [the box full of bees] on the sergeant's desk and say, here, voucher this. It's found property.' This is the idiots that I was dealing with."
Planakis, who goes by the old school Noo Yoawk name of "Tony Bees," speculated that his superiors were jealous of his recent promotion, given to him by former commissioner Ray Kelly, and that they were looking for any reason to get rid of him.
The NYPD is currently looking for an official beekeeper to replace Planakis, because bees are still a constant threat to the safety of New Yorkers.
[Image via Twitter]
—
>> Follow Tina Nguyen (@Tina_Nguyen) on Twitter
Have a tip we should know? tips@mediaite.com