NYPD Sends Officers to 'Twitter School' Because They're Really Bad at The Internet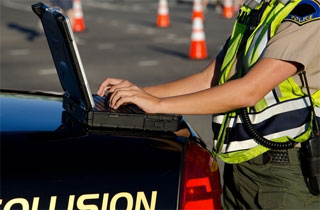 Right now everyone, conservatives and liberals alike, dislikes the NYPD for being tone-deaf, bad communicators, and overdramatic. And the NYPD is trying to combat that image by reaching out to the city — specifically, by reaching out over the internet. They're so committed to their social outreach, they actually sent top officials to "Twitter School."
The AP reports that the officers were sent to an hourlong tutorial course at John Jay College of Criminal Justice earlier this month, where they were taught the basics of tweeting and social media and sent home with a 34-page "Twitter handbook" on how to Internet.
Specifically, they learned that "humor and helpfulness" would help them win goodwill points with the community, and how not to pull an Anthony Weiner by confusing a DM with a normal tweet.
"Don't engage in a Twitter war with someone. You won't ever win," said one instructor, parceling out really, really good advice.
While it may be easy to laugh at these crusty old officers trying to learn how to use Twitter ("I just can't figure out what to say in this tiny little box," said one captain) the NYPD is particularly bad at online media — so bad, that they might end up inciting riots because of their #fails:
Earlier this year, @NYPDnews invited people to post feel-good photos posing with New York's finest with the hashtag #myNYPD. Instead, they found themselves awash in hundreds of images of baton-wielding cops arresting protesters, pulling suspects by the hair, unleashing pepper spray and taking down a bloodied 84-year-old man for jaywalking.

The NYPD community affairs chief sent out a message following the grand jury decision not to indict an officer in Garner's death that read: "The #NYPD is committed to rebuilding public trust. #Wehearyou" The effort was panned because Garner's last words were "I can't breathe."

And a commander in Harlem remarked on his private account about a woman who fell onto the subway tracks and died: "Let me guess, driver's fault right?" he wrote. Online activists lambasted him, and he apologized and removed the link.
As a result, 101 official NYPD Twitter accounts have been created for every precinct, as well as published a blog and increased its use of Facebook. However, the AP points out that other, smaller police departments are much better at using online media, pointing to the Boston Police Department's use of Twitter to clear up misinformation after the Marathon bombings in 2013.
[AP]
[Image via Shutterstock]
—
>> Follow Tina Nguyen (@Tina_Nguyen) on Twitter
Have a tip we should know? tips@mediaite.com