Hugh Hewitt Confronts BuzzFeed's Ben Smith Over 'Dead Cops Chant a Myth' Story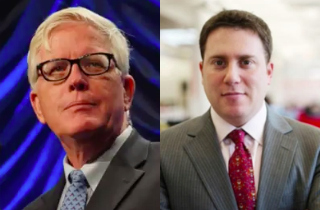 Things got pretty awkward this morning when radio host Hugh Hewitt asked his guest, BuzzFeed editor-in-chief Ben Smith about a post that went up on his website just a couple of hours earlier. As Hewitt quickly learned, Smith had not yet read the article. "I'm ahead of the editor?" the host asked.
The piece in question is headlined "The Origins Of The Alleged 'Dead Cops' Chant" but it appears that, at some point during the day it was promoted as "'Dead Cops Chant' a Myth."
"The headline is misleading," Hewitt argued, "because your reporter [Tasneem Nashrulla] says it's not a myth, it's just overstated." After quoting a sub-headline that also appears to have been changed, Hewitt asked Smith, "What do you call that, that escalator of attention-grabbers?"
As Smith struggled to quickly read the story live on air, Hewitt admitted that the story makes a "good point," namely that "the amplification of trolls is a problem in the news business." While the "dead cops" chants became a media narrative, Nashrulla traces the story back to a deceptively-edited clip by a Baltimore Fox station that purported to show protesters chanting "kill a cop." But as she shows later, there were also a small number of real protesters who made similar chants, meaning it is not entirely a "myth."
"I think 'myth' is a little strong," Smith said. When Hewitt asked if the editor "regrets" the use of this "tabloid journalism" technique, Smith said, "I'm happy to take a look at this story that you're reading aloud to me a this moment. I think, obviously reporting should be accurate, headlines should be accurate, so yes, that's a fairly obvious point that we both agree on."
Evidently, Smith or someone else at BuzzFeed did give the story a second look after the interview as the word "myth" no longer appears anywhere on the page.
Listen to audio below, via The Hugh Hewitt Show:
[Photo via screengrab]
— —
>> Follow Matt Wilstein (@TheMattWilstein) on Twitter
Have a tip we should know? tips@mediaite.com