NYT Digs Up Super PAC Proposal Calling Obama A 'Metrosexual Black Abe Lincoln'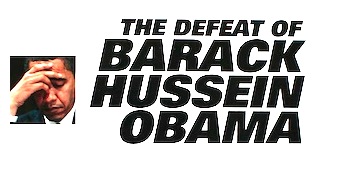 The New York Times' Jeff Zeleny and Jim Rutenberg have uncovered the playbook for a proposed anti-Obama ad campaign that would portray the president as a "metrosexual, black Abe Lincoln," among other unflattering images.

"The world is about to see Jeremiah Wright and understand his influence on Barack Obama for the first time in a big, attention-arresting way," the proposal notes, entitled "The Defeat of Barack Hussein Obama: The Ricketts Plan to End His Spending for Good," concocted by veteran political consultant Fred Davis and potentially funded by TD Ameritrade founder Joe Ricketts— hence the name.
The $10 million plan would "do exactly what John McCain would not let us do. Show the world how Barack Obama's opinions of America and the world were formed and why the influence of that misguided mentor and our president's formative years among left-wing intellectuals has brought our country to its knees." The proposal is not flattering of the 2008 Republican nominee, calling him "a crusty old politician who often seemed confused, burdened with a campaign just as confused." It appears to have significantly more hope in the nation electing Romney, or at least their plan to make it so– and using harsher tactics than the McCain campaign. Specifically, it refers to an abandoned Wright ad dreamt up by the McCain campaign as an Obama silver bullet. "If the nation had seen that ad, they'd never have elected Barack Obama," Ricketts laments.
The proposal also suggested hiring an "extremely literate conservative African-American" in the ad to counter President Obama– the man to bring up the "metrosexual, black Abe Lincoln" line into the public discourse. The campaign would be massive, with "television ads, outdoor advertisements and huge aerial banners flying over the convention site for four hours one afternoon."
Zeleny and Rutenberg reached out to the potential Super PAC considering running the ad:
"Joe Ricketts is prepared to spend significant resources in the 2012 election in both the presidential race and Congressional races," Mr. Baker said in an interview Wednesday. "He is very concerned about the future direction of the country and plans to take a stand."

The document makes clear that the effort is only in the planning stages and awaiting full approval from Mr. Ricketts. People involved in the planning said the publicity now certain to surround it could send the strategists back to the drawing board.
A person not connected to the proposal but who was "alarmed by its tone" leaked the documents to Zeleny and Rutenberg.
ricketts
Read the full, leaked anti-Obama ad proposal here.
Have a tip we should know? tips@mediaite.com