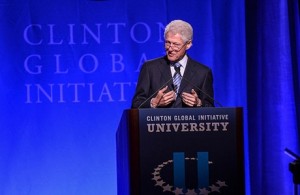 A New York Times reporter says a Clinton press aide "escorted" her to the bathroom and waited outside the stall during the Clinton Global Initiative's annual meeting being held this week in New York. The escort even waited outside the stall until the reporter was done in there.
"The person who stands out is the friendly 20-something press aide who the Clinton Global Initiative tasked with escorting me to the restroom," Amy Chozick wrote. "She waited outside the stall in the ladies' room at the Sheraton Hotel, where the conference is held each year."
In addition, members of the press are apparently stationed in a basement for this week's event and are not free in their whereabouts:
Security, foundation aides told me, dictates that the hordes of journalists, many of them from overseas news outlets, be cloistered in a basement at the Sheraton. An elaborate maze of security barricades separates where reporters enter and roam (though not freely) from the lobby of the hotel, where actual guests enter.
Chazick said the security was not always this heightened, though. Last year, when people criticized the Clinton family foundation when speculation over Hillary's potential presidential run was just beginning, was when reporters lost the right to "roam relatively freely."
The Clintons are not strangers to these types of actions. During Hillary's 2008 presidential campaign, the press tables were once stationed inside a men's bathroom. But luckily, the bathroom still had wi-fi.
[Image via screengrab]
[h/t America Rising Pac]
>>Follow Andrew Desiderio (@forza_desiderio) on Twitter
[Note: Mediaite intern Andrew Desiderio is a student at The George Washington University.]
Have a tip we should know? tips@mediaite.com