Obama, Allies Reportedly Want Former Massachusetts Governor Deval Patrick to Run in 2020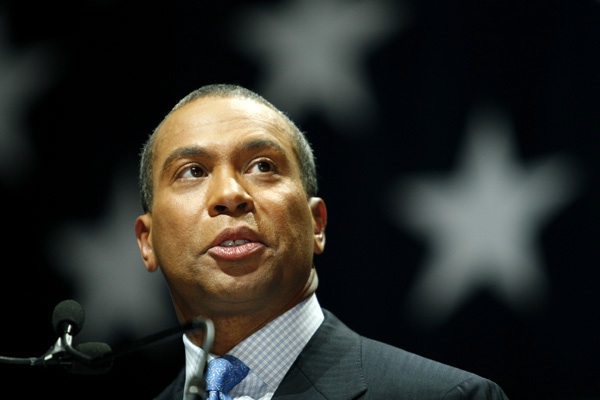 It hasn't been nine months since the 2016 election and Democrats are already look towards 2020.
Some of the names that have been floating around include Former Vice President Joe Biden, Sen. Elizabeth Warren, Gov. Andrew Cuomo, Sen. Kamala Harris, and even Sen. Bernie Sanders.
However, according to a new report from Politico, President Obama and some of his closest confidants are urging former Massachusetts Governor Deval Patrick to run.
David Axelrod, one of President Obama's top aides, had several conversations with Patrick about a presidential run and explained his logic of a primary map:
"a small-town campaign experience from his 2006 gubernatorial run that will jibe perfectly with Iowa, neighbor-state advantage in New Hampshire and the immediate bloc of votes he'd have as an African-American heading into South Carolina."
Valerie Jarrett, one of Obama's senior advisors during his presidency, said that a President Patrick is what "[her] heart desires."
Former White House political director David Simas, who now serves as the CEO of the Obama Foundation, had previously served as Patrick's Deputy Chief of Staff as expressed his support.
Last but not least, Obama himself has privately urged Patrick to think about a 2020 bid, thinking he's "actual political talent."
One former senior White House official told Politico, "If you were to poll 100 notable Obama alumni, the only two people who would win that 2020 straw poll right now are Biden and Patrick."
Another aide said that "the center of gravity" among operatives "would really shift in his direction in Obama world if he were to decide to run."
So far, Gov. Patrick has yet to express such interesting in throwing his hat in the ring.
"I'm trying to think about how to be helpful, because I care about the country, and I'm a patriot first. It's way, way too soon to be making plans for 2020," he stated.
Have a tip we should know? tips@mediaite.com