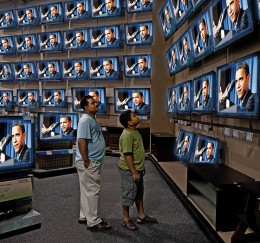 President Obama is dominating the press so thoroughly and alarmingly — what if he "cheapens his words, erodes his mystique" ! — that the press can't seem to resist devoting as much space as possible to talking about it. So much so, it's hard not to wonder if this is just a way to avoid parsing health care, which is the reason (initially, at least) that Obama has been "saturating" the airwaves.
Similar to the article that ran in the Times a few weeks ago — but much longer — New York takes look at whether Obama's all-out press strategy is actually good for him (Forbes.com is running a similar thesis) The fact that New York uses more than 5,000 to do so seems to suggest the answer is yes. There is no way of getting away from the man, so yes, considering he has not achieved this through infamy one has to assume it's a success. That said, the White House would no doubt prefer the press spend slightly more of that space dissecting health care, so maybe Rahm should put in a call to Bruce Wasserstein.
As it is, Obama's all-out press strategy appears to dovetail nicely with this week's media's strategy: putting Obama on your cover! He's on Time, The Economist, and New York. Crazy? Maybe. Or maybe we just have an incredibly interesting, good-looking, intelligent, likable President who understands the Google. Who also sells magazines. If they'd put Bush on the cover this much one imagines the magazine industry would have tanked that much sooner. This from New York:
Bill Burton, a White House deputy press secretary, tells me that he fields almost as many phone calls from the celebrity press as from the Washington Post, as if the president were George Clooney. "And they call about things that might surprise you," he adds. "Like when Tom Daschle withdrew his nomination." (You know your president's a headliner when E! is interested in cabinet resignations.)
Which would seem to suggest that Obama's press "strategy" has as much to do with picking which media outlet's open arms he prefers to jump into on any given day as it does with his "full-saturation approach." One imagines that right before this all Obama, all the time actually does get tiresome, Obama will begin to decline press appearances not only giving the press an entirely new subject on which to opine! Now if only People would take the time to explain how Obama's public option works, we'll know everyone's mutual press strategy has been a success.
Picture via.
Have a tip we should know? tips@mediaite.com