Obama Blogs in Huffington Post: 'Who You Are and Who You Love' Aren't Fireable Offenses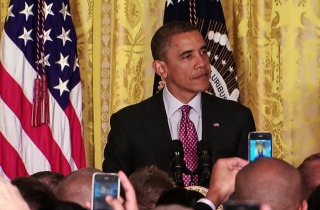 Blogging in support of the Employment Non-Discrimination Act (ENDA) on Monday, President Barack Obama took to the Huffington Post, where he wrote that Congress must ensure that employers are prohibited from firing on the basis of sexuality. "It's offensive. It's wrong. And it needs to stop," Obama wrote, "because in the United States of America, who you are and who you love should never be a fireable offense."

"Here in the United States, we're united by a fundamental principle: we're all created equal and every single American deserves to be treated equally in the eyes of the law," the president wrote. "We believe that no matter who you are, if you work hard and play by the rules, you deserve the chance to follow your dreams and pursue your happiness. That's America's promise."
Obama asserted that millions of LGBT Americans fear for they may be let go every day simply because of their sexual orientation.
RELATED: Maddow Predicts Doomsday For GOP: Gay Marriage Rulings Will 'Come Crashing Down On Republican Party'
Obama urged the Senate and House to pass ENDA, a law which would prohibit employers from discriminating on the basis of sexuality or gender identity. With the exception of the 109th Congress, the measure has been introduced to every Congress since the 103rd in 1994.
Opponents of the bill express concerns with the fact that the measure does not provide leeway for religious institutions to discriminate against LGBT or transgendered individuals on the basis of the tenets of their faith. Some believe forcing religious institutions to ignore these faith-based objections would constitute a violation of the Constitution.
"America is at a turning point," Obama continued. "We're not only becoming more accepting and loving as a people, we're becoming more just as a nation. But we still have a way to go before our laws are equal to our Founding ideals."
In America of all places, people should be judged on the merits: on the contributions they make in their workplaces and communities, and on what Martin Luther King Jr. called "the content of their character." That's what ENDA helps us do. When Congress passes it, I will sign it into law, and our nation will be fairer and stronger for generations to come.
h/t POLITICO
[Photo via White House ]
— —
> >Follow Noah Rothman (@NoahCRothman) on Twitter
Have a tip we should know? [email protected]