Obama Breaks His Silence To Turkey and Mexico On Wikileaks: 'Deplorable,' 'Irresponsible'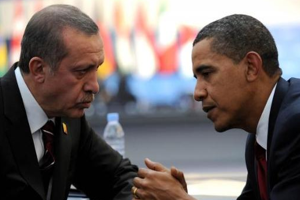 Julian Assange may have just won the support of the entire Republican Party. After keeping publicly silent on the explosive Wikileaks diplomatic cables still being released as the organizations leader awaits his day in court, President Obama is out on damage control, calling up foreign leaders to express his regret for Wikileaks' "deplorable actions."
According to the AFP, President Obama spoke to Turkey's prime minister and the president of Mexico today in an attempt to assure that the nations' ties remained unharmed by the diplomatic cables.
"The president expressed his regrets for the deplorable action by WikiLeaks and the two leaders agreed that it will not influence or disrupt the close cooperation between the United States and Turkey," the White House said, referring to Obama's call with Prime Minister Recep Tayyip Erdogan.

Obama also telephoned his Mexican counterpart Felipe Calderón, and the pair "agreed (WikiLeaks') irresponsible acts should not distract our two countries from our important cooperation," according to a readout of the call.
Before these comments were made public, the President and the White House had not made any singularly detrimental (or positive, for that matter) insights on the organization, so this may be an indication that the White House is ready for some drastic measures to clamp down on the website, though, given the state of the Democrats at the moment– and the fact that Rep. Ron Paul, a Republican, is Assange's only ally in Congress– taking a strong stance against Wikileaks may just lead some conservatives to have a change of heart about the website's threat to national security.
Have a tip we should know? tips@mediaite.com