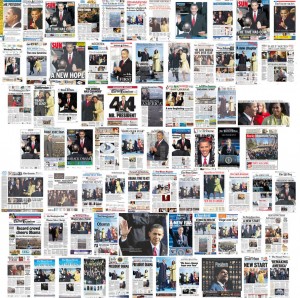 How much Obama is too much Obama? This is basically the gist of an article in the New York Times today regarding Obama's relationship with the media.
Similar to just about every President this country has ever had, Obama, in his six months in office, has taken to complaining about both the media, and the unforgiving news cycle. Unlike most of them, Obama at times appears to be running said news cycle (lest we forget he saved newspapers for a day back in November). All 24 hours of it.
Perhaps the old adage "familiarity breeds contempt" is applicable here, because Obama has certainly been spending a lot of time with the press:
Mr. Obama has given roughly three times as many interviews as George W. Bush and held four times as many prime-time news conferences as Bill Clinton had by comparable points in their terms.

In the past four days, Mr. Obama gave "exclusive" interviews to Jim Lehrer of PBS, Katie Couric of CBS and Meredith Vieira of NBC. He gave two interviews to The Washington Post on one day, one to the editorial page editor and one to news reporters. He held a conference call with bloggers. His hourlong session in the East Room on Wednesday night was his second news conference of the day. And on Thursday, he invited Terry Moran of ABC to spend the day with him for a "Nightline" special.
Based on this sort of deluge, a number of people are concerned he is "frittering away the novelty of his presence." Though, as someone else in the article alludes to, in this day and age the only real way to maintain a presence is to be present all the time. So, will we ever get to the point where we want to turn Obama off? No telling, though one suspects we are still a ways a way from finding out.
Picture via.
Have a tip we should know? [email protected]