Obama: 'Caricature' Created of Clinton Overshadowed Her 'Optimistic Message'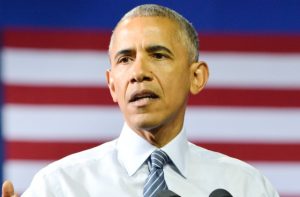 In his final interview with The Atlantic's Ta-Nehisi Coates for the magazine's big "My President Was Black," feature, President Obama spoke candidly about the election of Donald Trump.
And he admitted right at the outset, "I think I am absolutely, you know, surprised like everybody else with the outcome. So, you know, I don't want to pretend like I was anticipating the results."
He brought up how both Trump and Hillary Clinton had extremely high negatives, and dived into why it was the case for the latter:
I think the caricature of Hillary Clinton that developed as a consequence of all kinds of stuff, compounded in that last week with more news about emails, meant that people never really got to hear a positive, optimistic message. Hillary Clinton had all kinds of terrific policies, but that was just not the focus of coverage. And as a consequence, you ended up having not just a polarized electorate, but a fairly dispirited electorate.
In earlier interviews with Coates, Obama touched on the "fictional character" of himself he believes the media, Fox News, and Rush Limbaugh created of him that gave people a distorted view of who he is.
The president touched on the Electoral College without opining too much on it, while continuing to express his desire "to be optimistic about the long-term trends of the United States."
Obama also thinks this should serve as a wake-up call to people on the left who think that both establishment parties are the same.
Anybody who thinks that opting out of the system is a smart protest move, anybody who thinks that disengaging from the political process because "both parties are the same" or "both candidates are the same" or "none of them are getting at the structural issues that are ultimately going to make the biggest difference"—you know, those approaches can result in Donald Trump being elected president.
You can read the full interview here.
[image via Evan El-Amin/Shutterstock]
— —
Follow Josh Feldman on Twitter: @feldmaniac
Have a tip we should know? tips@mediaite.com
Josh Feldman - Senior Editor