Obama Consoles Moore, Oklahoma, But Warns: 'We Can't Shortchange Disaster Response'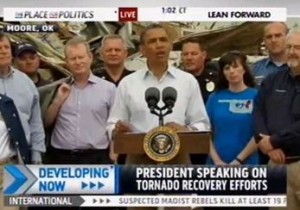 President Barack Obama spoke to the battered community of Moore, Oklahoma on Sunday afternoon, in the wake of last week's devastating tornado.
"Our hearts go out to the families who have been impacted, including those who have loved ones who were lost," Obama said, "and that was true for the parents of some of the children here at Plaza Towers Elementary School."
Obama spoke before a backdrop of rubble piled higher than his head, an indicator of the extent of the damage still visible one week after the storm touched down.
"This area's known more than its share of heartbreak," Obama said, "but people here pride themselves on the Oklahoma Standard, what Governor Fallin called being able to work through disasters like this and come out stronger on the other side."
"We know Moore is going to come back stronger from this tragedy," Obama promised. "Your mayor said you're already printing new street signs."
The president finished with a comment on the value of disaster preparation policies:
A lot of the first responders talked about the training that they've done, in part through some federal grants, to prepare for disasters like this, and as a consequence, when it actually happens, they're know what to do…Training, education, both for citizenry and but also for first responders, is absolutely critical, and we've gotta make sure those resources remain in place. I know everybody in Congress cares deeply about what's happening, and I'm confident resources will be forthcoming when it comes to rebuilding. But remember, it's also the ongoing training and equipment—we can't shortchange that kind of ongoing disaster response. We can't just wait until disaster happens. That's how, in part, we're able to save a lot of lives.
Watch the entire remarks here:
—
>> Follow Evan McMurry (@evanmcmurry) on Twitter
Have a tip we should know? [email protected]