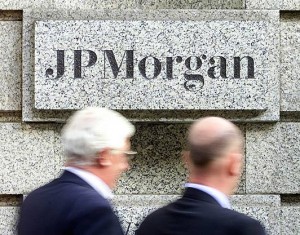 JP Morgan Chase & Co. announced a massive $2 billion trading loss last week, which shook up the market and caused a top executive to resign. Responding to the development on The View, President Barack Obama underlined the need for regulation, adding that JP Morgan "is one of the best-managed banks there is."
In the episode of The View airing Tuesday, Obama used the news about the bank to discuss with the hosts his views on the need for financial regulation and reform on Wall Street in general.
About CEO Jamie Dimon, Obama said he's "one of the smartest bankers we've got" — and the losses at the nation's largest bank show that "even if you're smart you can make mistakes." The lesson, Obama said, is that we need reform on Wall Street, that incidents like these underscore the need for regulatory measures like the Dodd-Frank Act.
Said Obama:
"This is one of the best managed banks. You could have a bank that isn't as strong, isn't as profitable managing those same bets and we might have had to step in. That's why Wall Street reform is so important."
While the president hasn't been alone in arguing in favor of regulation following JP Morgan's loss, others haven't kind quite as kind words for the Dimon. Also on Monday, Massachusetts Senate hopeful and former financial regulator Elizabeth Warren called on "a revival of 1933's Glass-Steagall Act, which kept commercial banks out of the investing business from the Great Depression until the 1990s," according to the Boston Herald. Furthermore, Warren's called for Dimon's departure from the New York Federal Reserve Board.
The CEO has apologized for the error after it became public that irresponsible trading led to the loss.
Have a tip we should know? tips@mediaite.com