Obama Promises Teen Who Lost Her Father On 9/11 A Meeting With Justin Bieber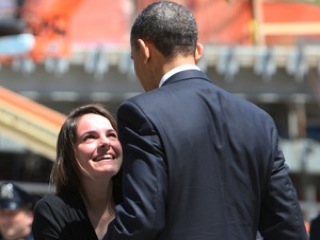 Now that the greatest villain of this generation has finally been put to rest, President Obama can go back to the things that really drive up polls numbers: making childrens' dreams come true. After the tweets of a young woman who lost her father on 9/11 to Justin Bieber fell on deaf ears, 14-year-old Payton Wall decided to ask the President for help. And after giving her a "bear hug" last Thursday, he promised to deliver.
Wall, whose father was an executive at the offices of Cantor Fitzgerald and lost his life in the September 11th attacks, sent a 1,500-word letter expressing her grief to the President, never expecting a response. The letter, according to the teen, was meant to honor her father and express the grief she had experienced in the decade since his death. In the process of describing how she coped, Wall wrote about the impact Bieber's film, Never Say Never, had on her. The President responded to her letter overnight and invited her to the ceremony at Ground Zero last Thursday, where the two chatted about the letter and everything in it– including Justin Bieber:
Payton spent days practicing a strong handshake, but in the end Obama gave her a presidential bear hug. She said he also told her that he "knows Justin" and that he would help arrange a meeting between the two.

The teen said she's thrilled, but "I just don't want it to seem like I only wrote the letter to meet Justin Bieber. I did it to honor my father," she said. "My father is the reason that we all came together today. I miss and love him and don't go a day without thinking about him."
Given that most of what Bieber tweets (and retweets) seems to be inspiration self-help talk nowadays, knowing he inspired a young girl to grow out of tremendous grief seems right down the pop star's alley. But then there's President Obama's assertion that he "knows" Bieber– maybe someone should tell America's teens that, while he has met with the pint-sized crooner, President Obama prefers the soothing sounds of Jay-Z and Frank Sinatra.
Have a tip we should know? tips@mediaite.com