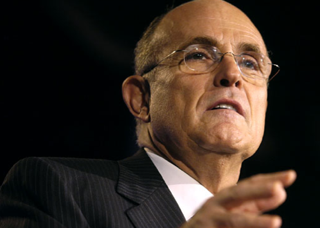 Watch out, Herman Cain! The first 2012 Republican presidential debate concluded all of 48 hours ago and already the political world is seeing possible aftereffects– namely, that the field appears so barren even the longest of 2008 long shots are considering jumping into the fray. The latest whispers surround former New York mayor Rudy Giuliani, who noted in Washington, D.C. last night he "could probably be talked into" another run.
Giuliani, who has become newly relevant in light of the recent killing of al-Qaeda murderer Osama bin Laden, dropped the hint at a speaking engagement with the Republican National Lawyers Association in D.C., where he delivered a speech in support a Republican takeover of the White House in 2012. Given his own history as a former candidate, he was unable to escape the question of whether he was considering his own run in 2012. According to CNN, he gave no definite answer, but as close to a "yes" as he had ever given post-2008:
But he wouldn't rule out his own bid when responding to the question of whether he will consider a run.

"Sure, but not right now," he said. "I enjoyed the debate so much last night…I will, sure, think about it, but not yet."

And if Giuliani turns out to be the best Republican for the job, the 2008 candidate for the GOP nomination said, "I could probably be talked into doing it."
He also made some comments about 9/11, having recently visited Ground Zero with the President to commemorate the death of bin Laden.
Last time around, Giuliani started strong in the polls only to see his "Florida First" strategy sink his campaign to the benefit of eventual candidate John McCain. Of course, the Republican field today is far different than it was in 2008; a handful of the candidates are or have been Fox News contributors, and the other bulk of them are either militant libertarians or, erm, "non-traditional" candidates (we're looking at you, Donald Trump). In other words, no one is saying "hop in, the water's fine!" quite yet, but given how diverse and, in its own way, exciting the field is, adding Giuliani to the mix couldn't hurt. The more the merrier!
Have a tip we should know? tips@mediaite.com